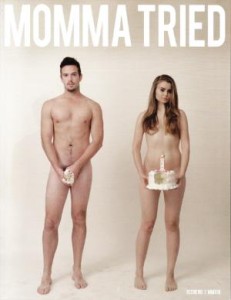 I really wanted to like Momma Tried. Honestly, I did. And part of me still does. So I'll begin on a positive note and get to the rest in a minute. Here goes:
I. They've made a beautiful-looking thing and put it into the world.
Micah Learned and Theo Eliezer should be proud of themselves. They've made a beautiful-looking thing and put it into the world. The perfect-bound, 160-page magazine is a hefty, physically pleasing object. In their Kickstarter video, Eliezer describes their shared desire to recreate the experience of leafing through vintage erotic magazines, using their new publication to transport the reader to a time when print publications were the order of the day. Their intention was to construct a "conceptual nudie mag exhibiting art, writing, subversive humor, and non-heteronormative perspectives on sexuality." In other words, they wanted to make a New Orleans Playboy for our post-modern era. It is a noble goal, especially in New Orleans, a city where burlesque shows and Bourbon Street strip clubs account for the majority of our erotic offerings.
In a certain sense, they've achieved their aim. The first issue of MT is here, made manifest through a year's worth of hard work, and the effort shows. Eliezer and Learned have a clear talent when it comes to the construction of print media. Theirs is a magazine among 'zines. The volume is substantial and sleek, and has maintained its fresh-off-the-rails texture and smell, even after two weeks in my living room, tote bag, and car. It looks and feels expensive. It's heavy. I like the fonts they've used and the way swaths of text are interspersed with images of varying scope and saturation. I'd give them high marks for the artistry of their presentation. But the text's physicality is where I must leave off in my praise.
II. Momma Tried is really more of a Tumblr than a magazine.
Despite how it looks and feels, in terms of content and curation, Momma Tried is really more of a Tumblr than a magazine. Its cover image, of Learned and Eliezer covering their genitals with portions of a birthday cake, operates like a really fancy selfie. Don't misunderstand me—I don't mind looking at their bodies, but as an initial impression, the image frames the magazine as a smattering of visuals and writing compiled according to personal taste alone. Rather than implicating themselves, the editors seem to say, "This magazine is us! Take a look!" True curation is a lot more than that. And it seems to me that this lack of a cohesive guiding principle—particularly because it claims to have a guiding principle in non-heteronormative sexuality—is what makes Momma Tried fall apart.
Learned admits as much in the Editor's Note when he writes, "The more [questions] we asked, and the more tough questions we were asked, the more the intersecting lines of the personal and the political, the sexual and the creative showed, and the bigger challenges became." In light of all the work that follows, when I read this, I read that the magazine's creators lost their handle on the aesthetics and ideology of the magazine as a whole. Or, at least, as an entity separate from themselves.
III. A scattered feeling that's anything but sexy.
The representation of intersectionality requires a deft hand. Otherwise, an audience is left with a well-intentioned but disjointed jumble. Hence the (hopefully) tongue-in-cheek immaturity of a fake ad—Eliezer and Learned call these "disruptive content"—depicting a woman with bottle of "Anel" perfume, preceding a powerful photo of a woman whose t-shirt, jeans, and masculine stance are offset by her titular "Fuck Me Shoes," high heels covered in semen. This confusion is why we have a purportedly queer and feminist magazine include both an interesting prose piece on the misogyny of reality TV (Kate Durbin's "Wives Shows") and a reductive collection of paper dolls for grown-ups included to remind us "…that wealth and poverty, conformity and radicalism, gender and sexuality, and belonging and being an 'other' all have corresponding sartorial indicators." At best, this structure contributes to a scattered feeling that's anything but sexy. At worst it leans towards the tone-deaf (see: "The Swan," Mike Powell's tale of gentrification from the perspective of a neighborhood indigene, or "Myths, Legends, Science & Circumstances of The Female Orgasm," you guessed it, a conversation between two male researchers about the ever-mysterious pussy monster).
Essentially, the magazine is obscured by pieces whose inclusion doesn't jive. They don't seem to have anything to do with eroticism, sexuality, or their attendant politics. Take, for example, Janani Sreenivasan's interview with A.L.I.C.E., an A.I. program created by Dr. Richard S. Wallace out of San Francisco. The conversation itself is interesting enough, but I don't know what place this piece has in Momma Tried. Of all the subjects broached in the interview—the feeling of being nine years old, the definition of a Turing test, the nature of robot immortality, etc.—nothing has to do with the magazine's intended subject. There's not even a whiff of romance! I have the same issue with Serra Victoria Bothwell Fels' "Meteorologie." As pretty as they are, why include a series of artfully rendered diamonds in an erotic magazine? No matter how good this work might be by itself, its inclusion in a "nudie mag" makes it read like filler. This, in turn, makes me think that Momma Tried doesn't have that much to add to the conversation.
IV. And transgressive? Hardly.
Again, I'll refer to the cover. Learned and Eliezer might as well be Adam and Eve, speaking of the personal and the political. They're two straight, white people in what appears to be a monogamous relationship. This is where more artistic rigor might have served them well. It might have helped them expand their scope, or have provided a template for self-criticism and comparison. As it stands, this limited perspective permeates the entire issue. The resulting magazine stays comfortably within the confines of male and female, gay and straight. In the Kickstarter promo, Eliezer even says that the magazine "celebrates the male and female form." Yes, there's lots of skin, but skin is not subversion.
I'd be remiss if I didn't acknowledge that Learned and Eliezer have ferreted out some pieces I like very much, including Laurence Ross' intricate short stories, " Poise & Ivy" and "La Bastille," about a fey ne'er do well who torments other young men with his beauty. I also liked the campy, nocturnal fecundity of "Earthly Delights," a spread featuring local Everything Collective, art directed by Eliezer and photographed by Daniel Ford. "Collars," Adam Weinstein's speculative "nonfiction" essay is great, plain and simple. I'm just not sure what theme connects these pieces for the sake of this publication.
Ultimately, the lack of cohesion means that, in spite of its breadth, Momma Tried plays it safe. This is something art should never do if it wants to make any headway in our understanding of what it is, what it can be, and what it can achieve. Especially when it comes to sex. I'd ask Learned and Eliezer to challenge themselves and their ideas, to expand and then refine their grasp of this essential subject. Instead of their granddads' Playboys, I'd suggest they check out magazines like Girls Like Us or Adult in order to explore a multiplicity of sexy ideas and sexy experiences—and the work being published as a result. Learned and Eliezer have made a beautiful object. I challenge them, on their next go-round, to make one that's meaningful as well.