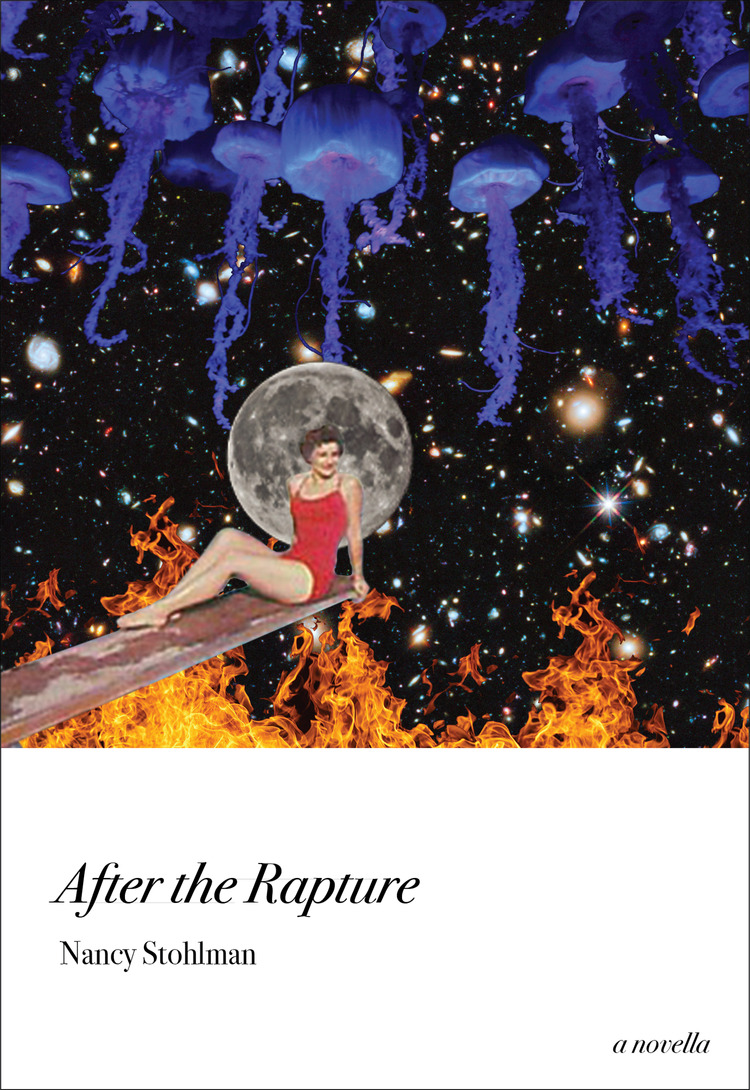 While it has become easier to imagine the end of the world, Nancy Stolhman's imaginative writing has given life to an entirely new interpretation of what 'the end' might entail. After the Rapture is a novella composed of a series of flash fiction pieces that depict existence in a constant state of catastrophe, but it does so with ridiculousness, wisdom, and just a hint of impending doom. Fragments of moments build on one another to create a cohesive narrative outside of the conventional novella format.
In a world plagued by so many tragedies that it becomes impossible to keep track, when people hunt for angels and force artists to the outskirts of society, when humans are slowly transformed into living dolls, it feels impossible for anything to make sense. Stolhman uses an atypical format to highlight moments of chaos and clarity as individuals and groups attempt to make sense of their ill-fated reality. She juxtaposes an ad for "Telemarketer Barbie" (58) with a piece depicting the main character's house inspection, highlighting seemingly mundane details of every-day life, if only the house inspectors weren't "8 feet tall and tattooed from head to toe, even their tongues" (59).
While the pieces in this story often focus on singular details about the government, tapped phone lines, or announcements from newscasters, the longer narrative follows the character Barbie as she tries to adjust to the always-changing circumstances around her. Her life takes a turn when she notices her own picture hanging on a wall of missing persons in a Walmart. Despite her best efforts, it is never removed, only updated to reveal her last known location. Her luck continues to sour after a car crash leads to her arm being replaced with a plastic Barbie arm. The world descends into chaos, often through the eyes of Barbie. News outlets try to identify the Antichrist and enraged citizens demand a rapture from religious figureheads who promised them the end, saying they "were promised a rapture…. These leaders owe us" (68).
Not every flash piece relates to the main character specifically. Some take the form of advertisements for various (somewhat nonexistent) Mattel products, such as a Barbie Dream Car that comes with an "odometer [that] tells your child how far you've driven. Not far enough, says Barbie!" (76). Other pieces depict local or national news through the form of transcripts or newspaper articles, one of which describes the "escalation of karaoke-related turf wars [that] have now included violent run-ins with innocent bystanders" (51) after karaoke gangs start to form in Kansas City.
Stohlman states in her author's note that she completed this collection "the same week the world went into quarantine" due to the COVID-19 pandemic, which draws attention to how satire is an increasingly difficult genre to write as our own reality only grows more perplexing. Despite this, Stolhman successfully creates a distinctive vision for her narrative world that is nonsensical enough to be separate from reality. She uses humor and absurd exaggeration to create a surreal, almost dream-like world that reflects our cultural worries about the end of everything. She includes vivid descriptions and wildly imaginative scenes that still feel grounded in the world she has created. It is easy to get swept up in this novella, to want to tear through it in a singular sitting. It is fast-paced, engaging, and still allows the reader to make connections and draw conclusions without force from the narrative. After the Rapture is a captivating and thought-provoking story that explores anxieties of the modern age. It is well worth the read.
---
Chloe Evans received her BA in English from Loyola University New Orleans.