Blood at the Root, by Lee Meitzen Grue. Alamo Bay Press, 2015. $19, 290 pages.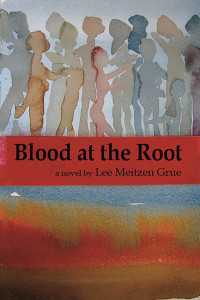 The New Orleans writer Lee Meitzen Grue is no outsider doing research for a work of fiction, but a local resident whose material has been carefully sifted. Without calling her recent novel Blood at the Root a roman à clef, the reader senses that with all the localisms and carefully drawn sketches of the people of South Louisiana—Cajuns, those brought up close to Baton Rouge, as well as New Orleanians—that Lee Grue's vivid past has been mined for the pure gold.
The novel focuses on Elliot Gilbert, an attorney turned river pilot, and his relationships with his first cousin Camilla Jane (who grew up with him near Baton Rouge) and his wife Lilah, a Texan transplant to New Orleans. Elliot has deep love for both women. Yet it doesn't appear he ever consummated that love with Camilla Jane, for as a young woman she has married a Louisiana Cajun governor.
To the extent one's life is mapped out youth, Elliot's and Camilla Jane's lives are presciently forecast in a flashback during a chapter titled "Sick, Getting Sicker." Grade-schooler Elliot and his young teenager cousin sneak away from home and get hold of a boat which they float out to a small island in the middle of the Mississippi River. In a foreshadowing of both their futures, Elliot says, "I'm the one who's going to be a pilot," while Camilla Jane retorts, "I might just as well be governor." Indeed, Elliot does become a river pilot. Likewise, the high-spirited, self-confident Camilla Jane predicts at the very end of the novel that she will become the first woman governor of Louisiana, just like Lurleen Wallace in Alabama who succeeded her husband as governor.
The novel ends before we find out the results of her political ambitions. It certainly seems possible for this determined wife of former Governor So Busteaux. Not only does she have genuine compassion for the state's people, but she had once been First Lady and would appeal to the very voters her husband had.
Within this basic matrix, however, the threads of other stories are intertwined. The portrait of Lilah's life, living as a single woman with her first real boyfriend before she married Elliot, reveals Lee Grue at her best: creating an impressive character study not lacking in dark humor. At one point Lilah works preparing itineraries for a travel agency. Her client, a zealous, unstoppable seventy-five-year-old by the name of Mrs. Mackinaw, is discussing with her plans to go to Portugal and Spain. First, Lilah:
"You land in Lisbon."
"Where's that–Italy?"
"No, Lisbon is in Portugal."
 "Oh, yes, that delightful Mr. Salazar is in charge there.  I met him once at a Hector party.  Such a charming man, so accommodating.  I probably should look him up."
"I think he's dead, Mrs. Mackinaw."
"So many people dying these days. Must be something going around. What do I do after I land?"
This novel is a tour through South Louisiana in the days when extended family ties were still paramount, though we can already see in the character of Lilah a distancing from her   immediate family in Texas. The caretakers of young Camilla Jane and young Elliot (Took and Moo) as well as Aunt Mag, Aunt Ann Elise the artist, Grandmother Elise, and even Camilla Jane with her love for Elliot as "family," are a disappearing entity. Yet Grue's nostalgia is kept under tight reins and never lowers itself to the purely sentimental.
In some ways this book is an elegy to her characters—the wonderful but sad Lane Clayley, her junkie husband Ben, the loyal and sometimes oddly funny Moo, the spiritually wounded boyfriend of Lilah, Kaleb—whose lives are strange somehow, still, who lend color and substance to the world under uniquely existential terms. As readers, we would have been less fortunate, had we not met them.
Ken Fontenot won the 2013 Texas Institute of Letters Award for best book of poems in Texas that year. He has an MA in German Language and Literature and translates from the German. His translation of Wilhelm Genazino's novel, Women Softly Singing, is under review by publishers.