Cunt Norton, by Dodie Bellamy. Les Figues Press, 2013. $15, 75 pages.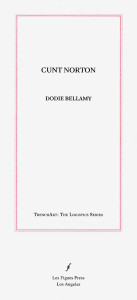 Cunt Norton is all about the knife. Cunt Norton is about finding the places where the meat runs tender. The knife of Cunt Norton is not always violent. Sometimes it is smooth and cold and feels very nice pressed against your breast or inner thigh. Cunt Norton takes the places where we feel most comfortable and makes them uneasy. Makes them wet and sometimes a little bloody. Cunt Norton will tease you sexually and make you want to touch it. When you touch it, you might get cut. There is no warning, no disclaimer. There is nothing safe about Cunt Norton. Likewise, nothing is safe from the knife. There is no poem that can not be cunt-up.
In Dodie Bellamy's follow-up to her 2001 Cunt-Ups, the author takes her knife to the body of the 1975 Norton Anthology of Poetry, reappropriating William S. Burroughs' "cut-up" technique. Here, Bellamy takes the original texts from famous poets and injects them with tense and often violent sexual language. The victims of Bellamy's cu(n)ts cry out their sexual desires and frustrations in an almost schizophrenic, contradicting babble of voices. From the childish commands of Tennyson ("Thy pussy is mine mine mine!") to the submissive whipping boy of Creeley ("You're so tough, the way you smack me with your rebuff. I love it…I will wear your panties, will wear whatever dresses your cunt."), the speakers are multigendered, pansexual slaves (or slavemasters) to their genitals and to the genitals of others. The result is a Frankenstein's monster of sext, dripping and sutured and not always coherent in its wantings. In Cunt Norton, the men of the western literary canon are stripped and dolled up and forced to expose their most tender pieces. They are forced to smile and giggle and say thank you when Bellamy pushes the knife in. The texts are hers to subjugate and fuck, and by using the poets' words and styles against them, Bellamy crafts these mutilated self-portraits of shame and pleasure. Take, for example, the natural imagery in "Cunt Hughes" used against the poet to question his sexual autonomy and power: "As you tongue my clit, my pomegranate lips spit proud towns and riches." Bellamy makes these poets say things with their own words, and she makes them like it.
Cunt Norton works so well because we've all been there. As I read these poems, I feel uncomfortable and embarrassed because Bellamy is making these authors say the things they are trying so hard to not say. Things we aren't supposed to say. Bellamy makes them beg for it. The poets can't control themselves. Their language has been so appropriated that they are no longer in control of their own words on the page, let alone their bodies. For instance, "Cunt Lowell": "I get up from my chair and leave a wet spot of love." "Cunt Byron": "My cunt has her moralities; but then she's the devil." "Cunt Williams:" "[M]y cock feels like one of those small water pistols in the windswept place without sun, stars, or moon—just dripping instead of shooting."
But Bellamy is not simply the manipulator of these helpless bodies of poets. She is by their sides, participating in the frothy pot of cum and blood. She is the surgeon, the nurse, the dutiful widower crying over the body and the body itself. The poems that live and breathe and fuck in Cunt Norton are the hungry children of this weird incestual, autosexual creation. Confused? Good. Cunt Norton is unique in its invitation to be hog-tied and fucked and slit open not just once, but again and again. To confuse the reader and make you hard and then make you feel guilty for your hard-on. Bellamy's cuts are just the first round of mutilations, the mastery of her work lies in the text's ability to be re-cunted by readers until the body is no longer recognizable.
Bellamy finishes her great massacre with an address to the reader: "You've wet everything we've touched tonight." And we feel guilty, like children caught touching each others' privates. To me, it's like Bellamy is my mother and my mother is watching me masturbate. She transforms me into one of her victims and accomplices. I become both mutilatee and mutilator, roped into the sexual frenzy of a slender book.