David Armand was born and raised in Louisiana. He grew up in the small village of Folsom, where he lived on twenty-two acres of pine-wooded land with lots of dogs and a few horses. He has worked as a telephone operator, a dishwasher, a drywall hanger, a draftsman, and as a press operator in a flag printing factory. He now teaches creative writing at Southeastern Louisiana University, where he serves as associate editor for Louisiana Literature Press. In 2010, he won the George Garrett Fiction Prize for his first novel, The Pugilist's Wife, which was published by Texas Review Press. His second novel, Harlow, was released by Texas Review Press in September 2013. David now lives with his wife and two children and is at work on his third novel.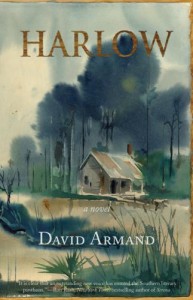 INTERVIEWER
I've read where you refer to your new novel as your "autobiographical" novel. What do you mean by that?
ARMAND
I've heard a lot of writers say that their first novel is often more autobiographical than their subsequent books. This wasn't the case for me. The Pugilist's Wife had very little to do with my own life experiences. Harlow, however, was borne from my own journey to find my biological father, whom I didn't meet until I was twenty-seven. Although I don't consider Harlow non-fiction by any stretch, there are a lot of my own personal experiences in there.
INTERVIEWER
Could you give us an example?
ARMAND
One example is the "duck hunting" scene. When I was around the same age as the protagonist in the novel, my adoptive father took me duck hunting. However, I was wearing a cast up to my shoulder after breaking my arm playing football. My dad really wanted me to go duck hunting with him, so he took me into the shed and cut the upper part of the cast off with a hack saw. I'll never forget having to clean a passel of dead ducks with a cast on my right arm. I don't think the bone in my arm ever healed properly after that. I still feel an almost arthritic pain there when it's particularly humid out. Anyway, this happens to Leslie Somers, the protagonist in Harlow. I'm always heartened when readers tell me they can really "see" this scene, in particular, even if they've never been duck hunting. I think that has to do with me actually experiencing this myself.
INTERVIEWER
What do you think made you want to write this novel at this particular stage in your life?
ARMAND
I think it mostly had to do with having children of my own and wanting to be a good father to them. Growing up, I was fortunate to have an adoptive father, a grandfather, and an uncle who were all great examples of what being a good father means. But I always felt a sort of emptiness in my heart because I didn't know who my biological father was. I couldn't stop thinking about finding him, and this feeling intensified when I had my own children.
INTERVIEWER
In Harlow, when Leslie finally meets his dad, the man is quite different from what Leslie had hoped. Is it safe to say that this is similar to your experience?
ARMAND
Yes. But that's not to say that Leslie's father is a bad person. My biological father isn't either. Like all of us, these men are flawed. They are damaged by their own pasts, their own demons. I think it would be dishonest to say that we are not all, in some way, damaged by our histories.
INTERVIEWER
One scene that seems particularly poignant in the novel is after Leslie and his father have re-united and they walk through Harlow's house together. Eventually, they both stop in front of a painting that Leslie discovers was painted by his father. Could you tell us a little bit about that scene?
ARMAND
That scene was completely fortuitous. I started it simply wanting to add a "prop" to Harlow's house. I thought that a painting on the wall would be realistic enough, as most folks have paintings or pictures hanging on their walls. I was just as surprised as Leslie when it is revealed that the painting was done by Harlow, and so I decided to go back and describe the painting in greater detail: it's a watercolor depicting a duck hunting scene. I think its existence adds a different and surprising dimension to Harlow's character.
INTERVIEWER
Then, of course, the painting plays a significant role in the novel's plot later on toward the end of the book.
ARMAND
Absolutely. And that was a fortuitous event as well. You see, I never work with outlines or much of a sense of where a novel is going and so I am often just as surprised as the reader when these things happen. I won't say how this painting plays into the plot, so as not to give away the ending of the book, but you're right: that painting does become very significant. It's funny to think that I initially put it there just to add a sense of realism to Harlow's house.
INTERVIEWER
Has your biological father read Harlow? Does he know that it's loosely based on him?
ARMAND
I don't know. I haven't spoken to him in a few years, unfortunately. I hope that if he does read it, he sees that I tried to make my version of him sympathetic and realistic. I'm always fearful that people will see themselves in my characters and be hurt or offended, or worse, angry. That is not my wish. I love the characters in my books, even the detestable ones (and there are quite a few of those), and I write about them from an objective place. I like to imagine that whoever created us, this species, loves us all equally, despite our imperfections and flaws. As a fiction writer, I'm a creator, in almost that same respect, and I try to feel a similar compassion and love for all my characters. Without that, I don't see the point in making them.
Dixon Hearne is the author of three short story collections and editor of several books. His fiction has been twice nominated for the Pushcart Prize, the Hemingway Foundation/PEN award, and winner of several other awards. His poetry was recently named as a finalist for the 2014 Spur Award.