Everything We Don't Know, by Aaron Gilbreath. Curbside Splendor, 2016. 312 pages, $17.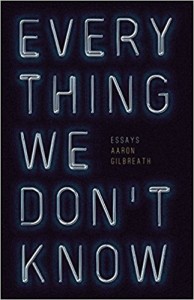 In this era of random and useless information competing for a reader's attention, the long-form essay can be a welcome respite. Blurring the distinctions between essay and memoir, Aaron Gilbreath's collection, Everything We Don't Know, contains the keen knowledge of a prolific essayist, and the self-indulgent experiences of a memoirist. Obsessive fixation fuels these essays.
The author's experience is heavy with drug experimentation, meandering road trips, as well as star and navel gazing, all supplemented with pithy research. Throughout, there is a sense of transgression of boundaries and social mores, as he evokes longing for the freedoms of youth—if not quite for its excesses. Ambivalence underpins Gilbreath's reminiscences on the lost joys of an itinerant wanderer looking warily toward adulthood and its potential traps.
Gilbreath's prose is fluid, though frequently workmanlike. He is fond of long and dense paragraphs with occasional standout sentences. The reader is given a pleasant synapse tingle with these gems, as when "Darkness spilled like Alaskan crude around the brightly lit station, a darkness so thick it gummed the edges of my peripheral vision." As often, he can pile on enthusiastic excess. The sustained tour de force of "\'ra-di-kəl\," a lyrical inquiry into etymology, revels in flashes of verbal brilliance.
The author's drug abuse ebbs and flows in the hopes of achieving enlightenment, and because of it, a tone of frustrated expectations could potentially turn off a casual reader. In "A Secondary Landscape," after snorting PCP, he and his friend stop their van and crazily lie down on the remote road they've been driving. The respite provides an existential meditation on childhood that is worthy of Sartre:
For that brief moment right before sleep, I drifted through space in a universe without planets. Nothing in the distance, nothing in every direction. For one overwhelming second my primate brain grasped the elusive notion of death as a long, black, empty forever. That's what awaits us, I'd think: eternal nothing, infinite blackness. […] Then my eyes jolted open, and I pressed my face into the pillow to silence my sobs.
Gilbreath is deft at fashioning narratives from his life. Meaningful anecdote informs an evening spent with his parents, gaining a reader's empathy. He explains the determined, and touching, process of trying to hold on to memories of his loved ones:
Now everything takes on a weighty significance. It becomes: The last conversation. The last concert. The last supper. And nervously I savor these moments and then write about them in my journal, as if by preserving the details the event's participants will endure off the page…
The sobering "Tillage" presents a dubious future with fading opportunities. Here, the author attempts to envision a book about California's Central Valley while fleeing the wreckage of a dysfunctional relationship. The ensuing road trip he takes has him strung out, holing up at dismal motels trying to live the writer's life. He evokes his mental state as he opens the door to the stockyard odors. "It's the smell of promise, the smell of death, which itself smells of new life." Somehow, we can know what we want, even in the midst of our misery, even if we can't know how to go about getting it.
Departing from the personal essay, his think piece on the 2011 earthquake and tsunami in Japan, "Everything We Don't Know," discusses the long-term radiation impacts from the meltdown of the Fukushima Daiichi plant on the ecosystem. This terrifying event left a brooding impact on author, as well as this reader. In his analysis, Gilbreath combines exhaustive research with personal observation–in this case, about Saury, a canned fish he covets, and how it might be affected by radiation–to paint a stark, if inconclusive, verdict. The reader is offered no comfort when Gilbreath presents how distressingly little experts know about this modern dilemma.
For all of the angst at the start of the collection, a lightening of tone suffuses the final essays. In "(Be)coming Clean," Gilbreath recounts his heroin addiction and six years of recovery. The subterfuge he uses on his family freights the essay with drama, ultimately providing needed closure to an earlier essay. Perhaps the best essay in the book, the reader comes away with awe as the author reckons with past duplicity to bear up this painful episode.
Throughout Everything We Don't Know, Gilbreath struggles with existential purpose, using his writing as if to atone for, and make sense of, a life of reckless autonomy and the pushing of boundaries. But in spite of it all, or perhaps because of it, the reader comes to understand that this determined and prolific essayist will persevere as he continues to mine his life experiences for writing gold.
Robert Detman has published fiction, essays, and reviews in several dozen literary journals. He is the author of the novel Impossible Lives of Basher Thomas (Figureground Press, 2014). He tweets at @literarydetman.