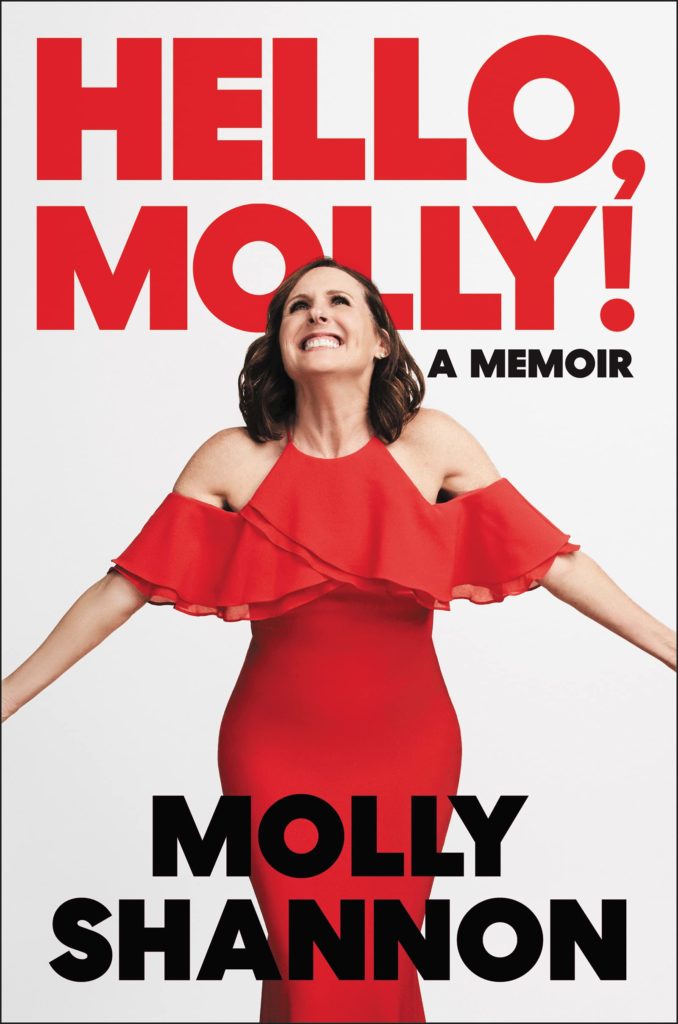 Humor allows us to build ourselves back up after we've been knocked down.
Comedian and actor Molly Shannon recounts a childhood marked by tragedy in her new autobiography Hello, Molly! At age four, losing her mother, sister, and cousin in a fatal car accident caused by her father, Molly's life is rooted in loss. Her candid account of growing up, raised alongside guilt and grief, leaves nothing off the table. Molly leans into authenticity, as she is unable to escape her truth. Navigating her complex relationship with her alcoholic, larger-than-life father, as his caretaker and confidant, she walks a fine line between codependency and comedy. She is left to find ways to make it all okay, having to pick up the pieces while casting a wide net in an attempt to survive.
For a lover of comedy, this autobiography is a dream. Molly describes times of companionship with Will Ferrell, major breakthroughs in writing, and uncontrollable laughter in the romanticized offices of Studio 8H in Rockefeller Center. In the interest of full disclosure, as a (far too young) kid I consumed the Best of SNL DVDs regularly. I would anticipate Molly's sketches and find myself on the edge of my seat. The "best of" the autobiography is that it is really a story of adversity and resilience. Grappling with ideas of mortality, trauma, addiction, and isolation, Molly's story is redemptive. It doesn't try to be a tell-all. Rather, it processes personal triumphs and defeats and expresses gratitude for everything in the middle. The true Molly comes to life through embracing her contradictions and complexity. Through her authenticity, her story has universal themes that can be enjoyed by a wider audience.
Before Molly Shannon arrived on our TV screens on Saturday nights, she played improvisation games with a father who was destroying himself. Jim Shannon was complex. In Molly's life, he lived many lives of his own. Plagued with the guilt of being at the wheel in the accident, battling addiction, and repressing his sexuality, Jim relied on Molly even in her adulthood. He was a complicated character, one to whom Molly swings back any moment she can. He lives in her, he consumes her, and in a way, she processes him and gives him a new story in her memoir. He is inescapable in her choices, in her relationships, and in her comedy. However, in the closeness and containment of her relationship with her father, she finds hope, too. A man who loved female performers himself, Jim wanted Molly to succeed. Perhaps he also wanted to be as much of a queen as the women he idolized: cleaning the house to Judy Garland songs, drunkenly stumbling into Elizabeth Taylor's dressing room, he made bold choices. Molly took note and did the same.
While there was intimacy in the relationship, there was also no room for boundaries; everything overlapped. She says that "between a daughter and her single father, lines could be blurred. Like any family with codependency issues, sometimes you don't know what's appropriate or what isn't. Boundaries weren't defined. I was the person he relied upon emotionally. I think he needed my companionship."
We are brought along for the ride as Molly finds her voice in improvisation during her senior year of college. Amidst roaring applause from her classmates, she finds validation and a community of understanding. As a child of an alcoholic, a child who lost her mother very early on, Molly confronts the fact that she has survived through improvisation her whole life. When she is faced with adversity, she never runs away; she is forced to confront it. "I was improvising in character, but I used my real feelings," she admits. With comedy being a boys' club, she must confront her own thoughts and ideas and make her own characters. Thinking back to the strong women performers her father adored and his boisterous personality, she finds him in many of her characters. She ends up playing and processing his best and worst traits in some of her most prized sketches. The humanity in her humor gets her to where she wants to be.
In coming into her own, Molly naturally connects with others and honors her mother. "My mother was right about my ability to make friends. I was popular. The main reason for this was that I never wanted anyone to feel the way I did – left out, forgotten, not included – so I was good to everyone," she says. On the playground, her game of choice is "family". Everyone hopes to be picked for Molly's. She wants to be the best mother. But she is brutally awakened from her dreams when a boy passes her a note that says, "Haha, you don't have a mother." Any possibility of playing pretend for her is punctured. Waves of grief also accentuate the rocky nature of her adolescence. Through it all, she keeps moving, observing and learning from those around her.
Reflecting on playing Monica Lewinsky, Molly admits that she never wanted to make anyone feel mocked. She searches for honesty in her characterizations. Since SNL chose to address the issue, she worked to find an honest version of a girl infatuated with a guy. She takes us through her high school infatuation with a boy she obsessed about from afar: Brian MacCaffrey. Molly believed Monica's intentions, and Molly's work stands out because she never creates caricatures; rather, she becomes characters.
Her tone is honest throughout, heartbreaking and overflowing with humor. It feels familiar to her fans, while making way for a new understanding of the person she is beyond the entertainer we know. The autobiography begins by addressing the accident and the immediate aftermath. We are immersed in the world of four-year-old Molly and her thought processes: Toys are delivered to the hospital, not to her home. Heaven is a place that is supposed to be good, but it took her mother and sister away, so it must be bad. Family members surround her yet have nothing to say. These contradictions confuse her, but at their core, there is humor in each observation. There is a sense of the Molly Shannon that the world knows and loves, clever and kind, even in her earliest memories.
In reckoning with trauma, we seek a way not to be stuck. Through entertainment, Molly found an escape and, while being someone else, she learns to accept parts of herself. As a child of an addict, Molly accepted the unknown, as change is the only constant. She embraces that authenticity, as she could never hide her tragic situation as a child. On the playground, Molly wanted everyone to be heard. She wanted to be a mother. She has given voices to so many people through her work, reinventing her father and reimagining people to be authentically themselves. And as a mother, Molly seeks to give her children the relationship she never had, no longer carrying the burden she attempted to escape.
As humans, we are constantly becoming. Hello, Molly! suggests that in darkness and heartbreak, there can be redemption. In recognizing flaws and imperfections of the human experience, there is humor. And in accepting the gray areas of life, Molly Shannon gives us truth, equally funny and touching.
This review is based on an uncorrected proof.
---
Ella Cheramie is a junior from New Orleans studying English writing with a minor in Social Media Communications at Loyola University New Orleans. Her writing has been featured as a journalist in the Anchora, Delta Gamma's National magazine, as Assistant Editor of Life and Times for The Loyola Maroon, where her focus is in film and television reviews, as well as her poetry being featured in celebration of the Tricentennial of New Orleans in the Patrick F. Taylor Foundation's 18in18 contest as first place winner. In her free time, Ella enjoys supporting the arts including music and film. She is an avid pop culture and aspires to write for entertainment publications like Variety and The Hollywood Reporter as well as her childhood dream position of a telecommunications reporter for E! news.