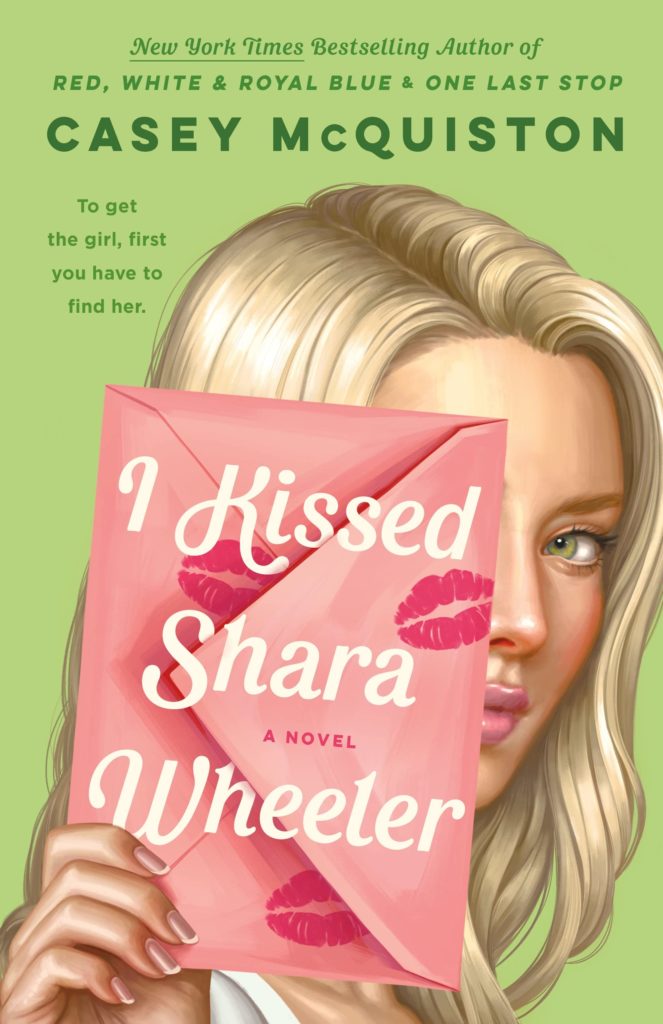 "It's not that Shara is that important; it's just that, without her, Chloe's not sure what the point of anything is."
We all have a Shara. The person we find ourselves competing with for everything, even if we don't realize it. But what if that person disappeared? How would we move on?
Well, overachiever and valedictorian hopeful Chloe Green can't move on. She refuses to.
I Kissed Shara Wheeler by Casey McQuiston, the author of 2019's Red White and Royal Blue and 2021's One Last Stop, is a young adult queer romance about protagonist Chloe Green's quest to track down her MIA academic rival/secret obsession Shara Wheeler through a series of clues left behind by the prom queen. Joining her is burnout punk Rory and Shara's quarterback boyfriend, Smith. Though they may seem like a weird Scooby-Doo Mystery Gang, they all have one thing in common: they received Shara's last three kisses before she disappeared. Now, they must find her before graduation.
I Kissed Shara Wheeler touches on subjects that are not often explored in novels for younger audiences. McQuiston does not hold back in critiquing religious guilt and compulsory heterosexuality. At its core, this novel is about the parts of us we hide from both ourselves and others in favor of being accepted and safe. 
As a main character, Chloe can be obsessive and arrogant. A California native, she moved to the conservative town of False Beach, Alabama four years prior to the events of the novel. It has been difficult adjusting to this change, especially as an openly bisexual girl with two mothers, one of whom has a complicated history with False Beach and Chloe's current school, Willowgrove Christian Academy. The change has not been easy for her, as she has stubbornly maintained the same view of False Beach that she had when she moved there: a conservative torture chamber she is determined to break out of as soon as she gets the chance. 
In the meantime, Chloe has found solace in the theater department, finding small ways to rebel against her disapproving peers and teachers. This includes daring to compete against Shara Wheeler, the flawless daughter of the school principal. When Shara disappears in the middle of prom, Chloe vows to find Shara and prove that she is the sole winner of their unspoken competition after all these years. But first, she has to play by Shara's rules.
Throughout I Kissed Shara Wheeler, Chloe is forced to reevaluate the people that she looked down upon during their brief four years of high school. As her emerging friendship with Rory and Smith grows, she learns to be truly vulnerable. That is the magic of this novel: McQuiston redefines typical high school tropes and transforms them through journeys that may even surprise the reader. In the end, Chloe realizes that False Beach may not just be a place of hate; it is also a place of love.
"Everybody has to do what they have to do. But if everyone like us leaves False Beach, it's never gonna change. Someone has to stay."
The exploration of queerness in I Kissed Shara Wheeler is heartfelt, voiced with the right amount of sincerity through McQuiston's writing. Characters who had never had the space to question their identities because of their oppressive environment are allowed to figure themselves out at their own pace.
From the writing, it is abundantly clear that McQuiston has a background in fanfiction. While this provides a unique voice in some areas, it also makes the development of the story and characters a little rougher. In much of the dialogue, it is easy to tell that the author is a Millennial writing for a Gen Z audience. This makes for many awkward cultural references that will be dated by next year.
"Chloe, we're gay. We can't do math."
Unless Chloe is there, she (and by proxy, the reader) spends much of the book being told about events that happened off-screen; for example, Rory telling her about Smith and their past friendship. The novel could have benefited from a triple-POV format including Chloe, Smith, and Rory, allowing these three characters to breathe and develop in front of the readers, instead of being pushed into a corner to be forgotten when Chloe is not thinking of them. Additionally, some supporting characters could have used more time in the spotlight. Characters like Ace, the golden-retriever-like football player, thrive under the small amount of attention they are given, but Chloe's main group of friends, Georgia, Ash, and Benjy, deserve more than throwaway details written about them every 20 or so pages.
Though I Kissed Shara Wheeler is fast-paced, throwing readers straight into the action, there are some points that lack tension. Many scenes do not add to the mystery at hand, disregarding the entire premise of the story. Once the main concept of the book is exhausted, it is dropped, making it feel like the reader has stepped into a completely new story. 
I Kissed Shara Wheeler is an important novel for readers of any age who are looking for queer representation from a unique but relatable perspective. This novel is perfect for fans of McQuiston's previous works, or for anyone looking for a compelling yet breezy spring read. 
"But this Shara, the one spelled out on pink stationery, is a million times more interesting than the fake one. Like, no contest."
---
MaKayla Tappin is a Junior English major with a concentration in Film and Digital Media. In her free time, she enjoys writing scripts, watching films and crocheting.