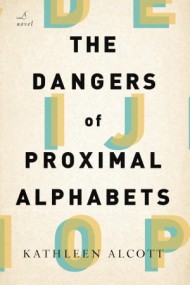 Born and raised in Northern California, Kathleen Alcott studied in Southern California, lived in San Francisco, and presently resides in Brooklyn. Her work appears in American Short Fiction; Slice; Explosion Proof; The Rumpus, Rumpus Women Vol. 1, an anthology of personal essays; and elsewhere. Alcott's vibrant first novel, The Dangers of Proximal Alphabets, explores a fundamental question: What is the thing that ties us to a person, and is it in fact the same thing that pulls us apart?
In the novel, we grow up with Ida's retrospective account of brothers Jackson and James, who communicate with one another—and create a strange kind of art—in their sleep. It is Ida's love for the brothers, combined with her incessant recounting, that thankfully divulges to us this otherwise private phenomenon. As this novel progresses, all characters continue to procure a fascinating ability to resonate with us in this unbound, dreamy way.
From knowing Alcott personally, and now through her characters, I must say it makes sense. Alcott is striking. Her style is derived from an earlier time and is relentlessly playful—much like the personality of her narrator, Ida. I believe Alcott wrote this novel because it was bursting out of her; this is the story she had to tell, and she does so fiercely.
Our interview was quick and digital; not how I would have preferred it to be. This, too, is another fault of proximity. I recommend The Dangers of Proximal Alphabets to anyone who has loved someone in that deep and private dream-state, where, upon waking, one cannot possibly claim what has happened, or what has changed.
 INTERVIEWER
In The Dangers of Proximal Alphabets, Ida and her comrades Jackson and James never really seem like children; they are all dealing with complex, adult life-situations that keep them from being frivolous kids. Did this aspect of their personalities make it easier or harder for you to tap into the voice of the narrator?
ALCOTT
I actually don't see childhood in the sense that our culture likes to uphold. I think being that small and young is an experience not lacking complexity. You're given emotions, but no clear rules surrounding their role; in school you're taught these shadowy syllogisms about how the world works, but no obvious chance to validate or refute them.
INTERVIEWER
Writing from a child narrator's point of view is notoriously difficult. What methods did you use to construct the voice of Ida? Did you pull from your own childhood, how you interacted with others and thought about the world?
ALCOTT
I'm lucky (or unlucky) enough to have a fairly strong (and image-based) memory at my disposal, a sturdy cache of childhood snapshots and the emotions tied to them. As a writer I tend to turn first to feeling; once you've built a room in that, the natural consequences and actions are easy to find. However, given that the book is Ida looking back at her life, I wanted the prose to interest itself more in subjectivity and the reliability of recollection than the matter of fact mechanics of childhood.
INTERVIEWER
Beginning on page 79, you omit some details because they would seem too "fantastical" or "exaggerated" if you wrote them into the story. I found most of the stories throughout the novel to be fantastical and exaggerated, because the children did grow up in a non-conventional family situation, which invites the fantastic in lieu of normalcy. So why take chunks of Ida, James, and Jackson's adolescence out? Why leave the reader hanging right when the story is getting even juicier?
ALCOTT
I think we spend a great deal of time, culturally, examining our personal creation myths, the legends and tragedies of our younger selves, but there's still a bit of shame about it—like, how long will we look backward, and is it really useful? And sometimes the answer to the latter might be no, at least on some surface level, but some inner and quiet percolating persists, I think. The passage you mention spoke to that for me.
INTERVIEWER
Ida's mind is tortured by death, tortured by memory, tortured with lost love, yet also sharply intelligent and insightful. She incarnates many of the female voices I am attracted to in fiction because she is an outsider by her own decree. However, in one section, we find her describing herself as "making up for [her] sex" by taking on various male-resembling activities or roles with Jackson and James. Do you think Ida felt remorseful that she was female, that she really had something to "make up" for?
ALCOTT
I don't think Ida feels contrite with regard to femaleness, but it does afford one more layer of "otherness," and all she wants in the world is some irrefutable bond to these people who are and aren't her brothers. Ultimately her path towards that takes the form of romantic love with Jackson, a literal kind of combining of people and genders.
INTERVIEWER
I was reminded of some novels, particularly Franny and Zooey by Salinger and Ada or Ardor by Vladimir Nabokov while reading your novel, probably because of the similar, peculiar familial structures. What were you reading while you wrote The Dangers of Proximal Alphabets?
ALCOTT
A great deal of poetry, actually, Ashbery specifically—sometimes when dealing with a narrative, reading another structure feels like a vacation in another country—and then, let me think, the essays and short stories of Donald Barthelme and Carson McCullers (probably I wanted approaches to writing completely unlike mine); and Alice Munro.
INTERVIEWER
I think it's an innovative concept, the idea that someone's alphabetical name-placement can influence so much of their lives alone, life with another person. What is it about the first letter of the first name that opens up a world of "proximity" both physically and spiritually for Ida and Jackson?
ALCOTT
I think that's something that bonds them as children, but I think as they grow older what nearly irrefutably fuses them is the fact every seminal moment includes the other person.
INTERVIEWER
I know that you were in the process of writing—at least some of—this novel in Fayetteville, Arkansas. Although this novel's setting is outside of San Francisco, to me there are moments that feel so Fayetteville—particularly whenever polluted streams or railroad tracks are mentioned. It could be me applying my world to the novel, here, which is great. But do you think that different landscapes and your travels influenced the environment of the novel?
ALCOTT
I must admit, here, that my hometown was the basis for the childhood environment; it features a questionable river and a number of long-obsolete railroad tracks. But: I do think a writer's flexibility in setting can lend a certain metabolism to a story. Feeling unsure or far from home or without a home, at least for me, gives more of an urgency to prose. I was rather lonely in Fayetteville, which gave my heart a great deal of room for made-up people.
INTERVIEWER
What kind of environments do you find best for your writing? Does it help to be around people? Do you find any of your writing habits to be unconventional, like Jackson's sleep-painting? Do you ever find it hard to totally claim—or take full credit for—your work?
ALCOTT
I like places that are physically beautiful, whether that is a park in New York City or a porch in a wooded, rural area, and with plenty of light. I try not to limit myself to writing in one place; that has always seemed prohibitive to me. Maybe my favorite thing is writing in a room in which someone I love (and respect as an artist) is working (quietly!) on something else.
As for the matter of claiming your work: well, of course you've got to, finally. But during the actual creation, I feel a certain relegation of control, and a cultivation of faith and trust, is essential. Revising is always possible, but recovering an impulse you felt for a reason then unknown is often not.
INTERVIEWER
How has the criticism and general feedback from your first novel affected you and the process of writing your second novel?
ALCOTT
I was working on it for a good nine months before Alphabets released; the publishing industry is slow! I think for many novelists, myself included, promoting a book you completed years before (two years in my case) feels a bit like time travel, or running into someone who you once loved very fiercely in an airport and sitting with them a while.
Interview conducted by Ryan E. Mitchell, editorial assistant for the New Orleans Review.