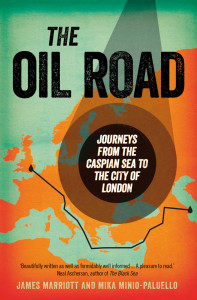 A year ago, James Marriott and Mika Minio-Paluello, activists at the London-based organization Platform, published The Oil Road: Journeys from the Caspian Sea to the City of London. An account of their travels along thousands of miles of BP oil pipeline, the book begins in Azerbaijan, where crude oil is extracted from deposits in the Caspian Sea, and ends in Western Europe where the product is refined, marketed, and sold to consumers across the continent (and, through commodities markets in London, even further afield). The result of years of research and travel in the region, and a highly readable account of the history, politics, and economics of one of the world's emerging geopolitical hotspots, The Oil Road is a vivid exploration not just of contemporary petro-politics but, more importantly, of the places, people, and lives that oil touches.
Residents of the Gulf South and Louisiana are no stranger to such explorations; for better or worse, from the thousands of jobs working in offshore and exploration to the shining refinery cities along Cancer Alley, oil is part and parcel of this area's lifeblood. Recognizing these shared links, the challenges and the risks, Marriott, Minio-Paluello, and Anna Galkina of Platform are visiting New Orleans next month to give talks about the book, now available in paperback, and to explore and discuss the Louisiana landscape, especially post-BP oil spill. Their appearances include Thursday, October 3, at Maple Street Book Shop at 6pm, and Friday, October 4, at Loyola University's Miller Hall (room 114) at 7:30pm. More details are available here: http://platformlondon.org/p-eventnew/oil-road-new-orleans.
INTERVIEWER
Could you talk about the origins of the The Oil Road? How the idea came about, and how you put it all together?
MARRIOTT
We've been engaged for some time—we started thinking about it since our first visit to Baku in 1998. It was important for us to find ways in which we could keep the engagement both for ourselves and for the wider public in these issues. Platform is an organization that straddles activism and the arts, and sometimes it's useful to apply an arts strategy to make for better activism. Or more effective activism. By the time the BTC (Baku-Tblisi-Ceyhan) pipeline had been built in 2006, it was quite difficult to find ways in which to engage people in Western Europe—certainly in the States—in the issue of the pipeline route and its impacts. Of course, those people who lived along the pipeline were daily engaged in it in ways that the book tries to illustrate, but for the public in England, NGOs, and government in the West, it was being pushed into this idea of its being a 'done deal'. We wanted to find ways in which we could break the ice that had frozen over the top of it.
One of the challenges in this kind of work is constantly trying to broaden the audience: I think the idea of making a travel book was a way of engaging a wider public so it would sit within reviews and in bookshops and so forth—in the travel section, rather than in the current affairs or the oil specialist section. The other key thing we're trying to communicate is the sense of space between the Caspian Sea and Germany. We wanted to get that into people's heads, and their imaginations and their hearts. The story is that journey. To try to get that into people's imaginations—the technique of having a book which takes you, the reader, along the route—seemed the obvious way to do it.
MINIO-PALUELLO
There's an infinite number of things we could be working on, given the scale of this issue. We worked very intensely on campaigning until 2006, at which point once it was operating, there wasn't as much immediate work we could do which would affect the pipeline itself. Campaigning on the pipeline was challenging, but we had started challenging the banks that funded the pipeline, and then expanded to challenging them more widely on other things they were funding—we had moved away from focusing on petrol. Over time what we realized that whereas while we had campaigned intensely on BTC, there was a public controversy. It was disputed, contested.
While we had moved on to other things, however, BP was spinning the discursive space, spinning the notion that "it's completed, and it's wonderful." All our work during the project had been to say that it will be problematic, but we hadn't produced the arguments outlining why it would be problematic. So basically, BP was managing to write the public history of BTC, and establish it as an example of how oil companies in general, and BP in particular, can build wonderful pieces of infrastructure where everybody is happy afterwards. Partly because BTC is so large a project that it's viewed symbolically, we felt it was important not to let BP get away with writing that public history. Doing a project in this way allows you to contest that public narrative.
INTERVIEWER
How many trips did you take to the region over the years?
MARRIOTT
If you take the initial region as the stretch from London to Germany, then a lot. Partly because Germany and Austria are included in the range, and Mika used to live there when he was an early oil campaigner. In terms of the Caucasus region, nine or ten.
MINIO-PALUELLO
I've done four or five, and James has done the same number or more. Which makes it at least nine.
MARRIOTT
But we haven't been at all on the oil tanker [the Dugi Otok], as you can see from the book. We have both been on container ships across the Atlantic, though—that helps a little bit, for us to be able to get our heads around what that's like.
 MINIO-PALUELLO
But we were also both pretty sad about not being able to get on the boat.
INTERVIEWER
One of the fascinating aspects of your descriptions of the pipeline is the variability of its accessibility—depending on who's managing it, which country it's in, and its condition, whether it's aboveground or buried beneath the soil. How did you negotiate access to the pipeline over thousands of kilometres when it was so unpredictable?
MINIO-PALUELLO
It varied depending on the points in time, and very heavily depending on the country. We never asked for permission, ever. That I know of. If we had, it would have been denied. Sometimes we would just show up by ourselves, sometimes we'd have access to the space through a local contact, someone who'd been working on these issues—it might be local campaigners or local activists. It would also vary quite heavily depending on the relationship with local residents, and their politics. Sometimes there would already be a relationship with people from a village nearby, and they would take us to the local route to say "look, this is where our land has been stolen."
During construction, the landscape is pretty torn up. You see bulldozers carrying big piles of pipes all over the place, and that does feel different than when you go now to visit a place along the route—most places—where it's been buried. There's grass on top, and you can't necessarily notice that it's there. You might, but you might not. When you do notice it's there, there's an eerie feeling that this pipeline is lying underneath you, and there's a million barrels of oil coming past underneath your feet, but that thought is outweighed by the thought of whether a cop is going to show up and try to arrest you. You watch out for approaching Jeeps, and always stay ready to take the memory card out of your camera pretty quickly and hide it in your shoes.
MARRIOTT
There's one passage in the Italian Alps where I was walking along the route of the Transalpine Pipeline through a forest, and it was very striking because it was the first time when that sense of the eeriness wasn't there—because in the Caucasus every second thought was "what's going to happen next?" It's quite rare to move along it—most of the time you're moving across it, bisecting it, and you're just completely on your guard. What I find so interesting is that there's this same matter, this crude oil, and yet the circumstances in which this matter moves are so different in Western Europe than they are in the Caucasus. In Western Europe it's so hidden, it took ages to find it. Nobody talks about it—people are oblivious to it.
INTERVIEWER
In the book, you have the pipeline itself—the object which makes it all happen. But your journey was as much about the people that you met as it was the pipeline itself. The fishermen and farmers, the oil executives and PR officers, even the border guards and local security. Who did you meet that stays in your mind?
MARRIOTT
What pops into my mind is a village in the Georgian mountains, the village of Dgvari where they basically said they wanted the World Bank to move them to Washington where it snows less. That was just the most extraordinarily potent few hours. I'll never forget it. Another encounter which was potent in a very different way was when we went to see the official at BP in Turkey, because she was extraordinarily flirtatious.
MINIO-PALUELLO
Completely so. I kept thinking she wanted to take James out on a date.
MARRIOTT
It was bizarre. We thought we'd have an hour-long meeting and it went on for hours.
MINIO-PALUELLO
She was getting messages from colleagues and World Bank officials on her phone saying, "you're late for a meeting." It was also interesting because she didn't recognize who we were, and to them she referred to us as to the campaigners challenging the pipeline. It's quite rare to come across that: to have someone describe you in the third person without their realizing that that's what they were doing. We also found it interesting because she didn't fulfill the stereotype of "the bad guy." She spoke about communities in a way that seemed quite sincere and caring, and about the people who were affected by the pipeline. She seemed very honest.
What else was interesting was within her position within the company—as she put it, she was persuading the oil men whom she criticized very heavily—she needed to persuade them that her work was important because connecting with communities would reduce resistance, and act as a kind of forewarning. She was quite up-front about the role of corporate social responsibility without changing anything structurally, but ultimately controlling the communities along the route. And you don't need to be an evil person to do that. Which is obvious—but it's tempting to think of these people as uncaring executives who only care about their paycheck. A critique of the way companies operate cannot rely on that accusation.
INTERVIEWER
The book is full of memorable moments, such as when you enter Georgia and the border patrol is more interested in your books than your photographs, or the visit by secret police to the home of your Azeri informant, while you're actually there. What were the most memorable situations for you during your travels?
MARRIOTT
It's difficult to pinpoint anything. What sticks in my mind are the moments when the veil is torn away, and something is revealed. Those are small things: there's a man we met in Baku who told us how his son had been arrested on trumped-up drug charges. Or yes, that experience of watching how our fixer in Azerbaijan dealt with secret policemen in the house we were visiting. We were bloody lucky there, because he was cool as a cucumber, and if he had made the wrong move, he would have gone to prison and we probably would have been deported. But instead he just stood up and said, "no, I'm not going to shake your hand," and called the treaty between the company and the Azeri government toilet paper. Those moments, when you actually see what's happening, are very powerful.
MINIO-PALUELLO
It's a lot of the same. I spent several months traveling along the route, so moments come to mind partly depending on what mood I'm in, with which things resonate in a particular way. But apart from those when things were very serious are those in which humor came in. Like the meeting in Yumurtalik, Turkey, between the local fisherfolk and the Turkish coast guard, when a harbor pelican kept going round biting the coast guard officer's feet. Moments like that.
INTERVIEWER
Something that comes out very strongly is the sense of constant tension along the way: tensions between corporations and the state, local tensions between villagers and the state and supranationals, tensions over compensation. As you unearthed these, how did you make sense out of them?
MARRIOTT
Much of the material about compensation was dug up while we were campaigning between 2000-2006, and there was much more of that than we could put in the book. Part of the challenge of the book as a creative object is to find instances that stand as exemplars, rather than just yet another piece of evidence. We spent a lot of time considering which village to talk about, because you could very quickly bury the reader in so many different examples that they lose interest. Selecting was a challenge in the process of writing.
MINIO-PALUELLO
Compare that reality to BP's narrative, which is that there was no tension and that everything was fine and simple. Which would have been the media narrative if people hadn't been kicking up a fuss about it in capitals like Baku, as well as in Europe. Because if all you had was local communities blocking the roads, that would barely get out. What's more interesting is the actual tension embedded in the project—it's a large piece of infrastructure that basically runs over people's lives—and the implication of it as "it's all very simple, very easy." BP will use large figures to make it seem as if it's working very well: they will refer to the vast number of communities, all the different landowners, whom they've had to deal with along the route. They'll say they dealt with 50,000 landowners in Georgia, and then use that same large figure to make it seem as though it's all been dealt with simply and easily and they have a solid process.
 MARRIOTT
The pipeline in Europe is a good comparison. Again, we were looking at that forty years after it was built. It was really hard to find out anything about it. We hinted at it in the book: if you really wanted to find out about any tensions, first you'd have to hire an Italian translator, then you'd have to dedicate months of your life trawling through archives, and even then you probably wouldn't get a picture of it. But it's completely erased. The idea that there was any tension is totally gone—it was more or less by luck that we could get together with someone who could tell us about the fact that there was a lot of tension surrounding it. Not long ago I was giving a talk to a group of Italian academics and they all said, "Wow, this is amazing, we've never heard about that."
INTERVIEWER
The narrative does foreground that contrast between visible and invisible realities. There's an invisible reality of millions of barrels of oil coursing underneath your feet—completely out of sight, but its impact is very real and present. How did that visible/invisible dynamic emerge?
MARRIOTT
For me, it's an area of exploration that came up throughout the writing of the book—when we were campaigning against it, we were always looking at things which we knew we had a reasonable chance of going to see. The more we thought about it—we spent a lot of time in the writing process thinking about this notion—we came to those zones of the invisible and the visible, and forbidden zones. Part of that line of thought was driven by the challenges of the parameters of the book. Of course we wanted to go on the tanker, and when we couldn't, it posed literal challenges—at one point, we thought about fictionalizing that. We played around with it, then eventually realized that the point at which we can't go on it is actually more interesting than going on it.
Exploring those notions of forbidden zones is more and more interesting. One way is to use the marine traffic website to point to a tanker that you can see online in real-time. And yet you couldn't ever go on it: it's forbidden. The other trick is to go on Google Earth and look for the offshore oil rigs in Azerbaijan, where they don't appear. A third is to look for evidence of how much BP pays the state institution of the Tate Modern in London for its sponsorship. And we can't see that. We're trying to get it, we're going to court about it, but it's forbidden. We're looking at all of those different spaces as forbidden zones. I find it more and more interesting thinking about becoming conscious of things which are not visible, particularly as we're constantly reminded that we live in this glorious world of alleged total information. Which is nonsense.
MINIO-PALUELLO
There are also important differences between what things are invisible. As James said, there are spaces which are physically inaccessible but aren't forbidden, and there is information which is not provided—such as the Host Government Agreements, the contracts for the agreements that govern the space through which the pipeline will be built. These agreements exist largely in secret, which we only manage to get through a struggle. Even if you can get hold of them they're largely unintelligible to most people because of the language they're written in, their formal structure. And even if you understand their meaning, there is still something outside the realm that we live in.
What is clearly inside the realm that we live in are the police stations built in Kurdish villages near the pipeline. Those are very physical and real. But the power structures that exist behind those physical realities aren't visible, and thus aren't recognised. These Jeeps on the route or soldiers with guns—it's not immediately apparent where they come from and what power drives them. If you go to a Kurdish community in north-eastern Turkey, you won't see a pipeline or BP logo. BP wants to be invisible. This is why in their leaflet, the slogan was: "Safe, Silent, and Unseen." They want this to disappear.
INTERVIEWER
The book constantly innovates on genre, distilling history, politics, commerce, culture, landscape history, travel writing, and ethnography into one complex brew. When you sat down to write, did you begin with this idea to combine genres or did you aim to extend one that already existed?
MARRIOTT
Early on we wanted to make something that fell within the space of travel. If we had written it in a way that was current affairs-based, I don't think we'd have gotten much of an audience. I wrote a book before about Nigeria [The Next Gulf: London, Washington, and Oil Conflict in Nigeria], and you can get something of an audience—but your audience for current affairs books does tend to rely on the liveness of the current affair. In writing a book about the Niger Delta, people are interested in it because there is plenty of conflict going on. Part of the challenge of The Oil Road was to make it engage a wide audience precisely because the powers that be, the interests at the company, want to make it boring, to make it safe, silent, and unseen. We need to make it seen, make it passionately interesting.
MINIO-PALUELLO
If we'd written it like James' other book, there's a primary audience which is already interested in the politics and economics of the pipeline: activists whose head is already into oil. But BP's audiences are wider than that. In terms of the principal work that campaign organizations often do, their audiences might often be limited just to those people thinking about oil. But when BP sponsors the Tate, they're trying to reach a certain audience. The same is true when Shell is sponsoring the South Bank.
It's not just that we need to speak to a wider audience. There's preaching to the choir, but there's also preaching to certain target audiences who might not be the choir—say, here in Egypt, the Ministry of the Environment, who will still hold certain positions. If we were focusing on the risks that BP faces in the Caucasus, then that would still be relevant to a prospective investor in the Royal Bank of Scotland. BP will tell you that they are speaking to that guy in the bank, but that they're also speaking to the people who come to the table—and we need to be speaking to those audiences too. Not just making the pipeline a little bit better, but challenging the entire structure.
MARRIOTT
I'm a firm believer that part of the way change comes is by making the world encompassable in stories. So that we can possess them in our imaginations and then do something. If we can't possess issues through story-making, then it's very difficult to change things. I'm delighted to know the story about the secret policemen in the house has reached an audience—the story lives inside you, and you can tell somebody else. I love that sense of people possessing it and it becoming intimate to them. One of the most amazing stories I've heard was that someone read the book from end to end to their partner who is blind, which moved me enormously. What an intimate activity.
INTERVIEWER
Are you still observing the region, and are there signs of change? Can you give us a snapshot of what has happened since the date of publication to the present day?
MINIO-PALUELLO
Publication date was September 20, 2012, a year ago. Remember that there are a bunch of different pipelines that run together. BTC was for oil, but you have the gas pipeline in the same trench, and there are places where you can't separate them. Within a month of publication, the gas pipeline was being blown up in Turkey, then two more pipelines got blown up after that in early October. The communities that live along the route still have soldiers walking through their villages and harassing them when they go to their fields, and whether they're Kurdish or Turkish determines whether they can even access those fields.
In Azerbaijan, there's the pipeline but there's also Baku itself. At the moment, BP and a dictatorial regime under Ilham Aliyev continue to control the country. And that is still very live. In the demonstrations in Baku that take place almost every week, the opposition is increasingly upset with the West for propping up the dictator due to oil interests. It's seen blatantly when Richard Morningstar, who was sent to Baku as US Ambassador, bows in front of the monument of Heydar Aliyev—Heydar being the father of Ilham and also an extremely repressive dictator. Even if you're Ambassador, you don't need to bow and leave flowers at his memorial. Our allies there were furious—it makes the Western support for repression crystal-clear.
This is ongoing. It's also coming up more so in the future because Ilham Aliyev is running for President again next month—but saying "running for President" is even misinformation, given that he'll win with over 80% of the vote as he always has. It won't be free and fair. What we will see is the US afterwards saying that it was great, the process was approved and the elections were fairer than they were before. Just like in Cairo where five months before the revolution started, the World Bank awarded Egypt as one of the best reformers globally, and both Obama and Tony Blair rushed to say Mubarak was our great friend in the Middle East and point out his accomplishments.
BP is also trying to build a new pipeline across Turkey by making an extension of the gas pipeline. If you look at the maps in the book, you'll see there are two pipelines that run side by side: BP and South Caucasus. BTC runs all the way down to the Mediterranean coast, where oil is put on a tanker and sent anywhere. The gas pipeline only runs to Erzum, to the Turkish grid. Which means that up till now the gas, which BP sucks out from underneath the Caspian and sticks into the pipeline, enters the Turkish grid.
What the US and the European Union are pushing for is to extend that pipeline to build the TANAP—the Trans-Anatolian Pipeline, which will run from where our West Caucasus pipeline currently ends to the EU. It crosses Turkey to the border of either Greece or Bulgaria, at which point another new pipeline will be built which will take that gas either to Austria or to Italy. These vast new infrastructure projects, which BP is central to making happen, will tear up whole communities.
INTERVIEWER
As you look at these other pipelines being built around the world—Keystone XL and Nabucco, for example—do you see yourself forming any relationship to those at all?
MINIO-PALUELLO
We're already interacting with a lot of them, challenging a variety of different pipelines. We've also opposed the Trans-Sahara pipeline, which is back on the drawing board. The Trans-Sahara is a gas pipeline that runs from the Niger Delta to Europe across the Sahara, which basically means crossing Nigeria, Niger through to Algeria where there already are pipelines across the Mediterranean—which puts the current French forces fighting in Mali and ongoing US intervention in the region in context.
There's a book called The Dark Sahara that has a good analysis about the roots of Al-Qaeda in the Maghreb, and to what extent they were initially composed of agents trained by or working for Algerian intelligence, with American knowledge. Even though the author of the book is an expert on the region, talking about it to the media is tricky because it's easy for it to be dismissed as a conspiracy theory. Beyond those, Europe has a plan for expanding the gas grid and sucking in fuel from a wide region: from across the Sahara, from the Caspian or from Uzbekistan, and from the Arctic. There's a whole web of pipelines that they want to build. Our challenge is to stop individual pipelines, but we also need to challenge this whole web.
INTERVIEWER
Considering the "carbon web" you describe: how can readers meaningfully engage that, when readers of this book may for the first time be becoming aware of the nature and scale of the issues?
MARRIOTT
There are lots of ways. When we were writing the book, we consciously decided not to have the usual chapter at the end that says "this is what you should do about it." Not only because those such chapters are extremely difficult to write without kitsch, but because it just doesn't fit with the genre we were trying to explore. I think that was the right decision. And I find that the process of talking to people allows us to explore that part much more clearly and interestingly. When we're giving talks, we do a lot of preparation to think about who's going to be in the room, how many there will be, and what are they going to be able to do.
In these talks, I give readings which explore corporations' social license to operate, and explain to them how they as members of (for instance) the Tate can do something about the fact that BP sponsors that institution. I also ask who pays their local taxes or who has a bank account at Natwest [the British bank] and then explain the relationship between their bank account and the building of this pipeline—how does that money relate to financing oil and gas projects, and can be done about it. I try my hardest to identify the individuals responsible for this activity, and to show people how to get in contact with them, to get involved.
Of course, none of these things will deliver a nirvana. But they are at least a route in, a route beyond the frozen surface which says, "this is too huge to do anything about it." The process of giving talks is crucial to show people that there are things they can do about it. I would consider it a major failure if we give a talk where people say "Oh my God, this is so huge there's nothing I can do." I really don't want to do that. The book shouldn't disempower people.
MINIO-PALUELLO
I agree. I hope the book doesn't disempower people, and I hope the book educates people on the different networks and all the different ways these pipelines are constructed. Deconstructing the power of BP—that needs to happen with communities that are on the front line of BP's new infrastructure plans, but also it needs to happen in London, because BP is also extracting there. BP doesn't just extract oil, it extracts money, cultural acceptance, and support of all these other activities.
INTERVIEWER
Is the past prologue? As you look to other pipelines, do you anticipate that other books like this will be written in future?
MARRIOTT
That's a really interesting question. It would be a huge honor if people would write in this way. We've had a lot of conversations about the medium and the genre, and people been very complimentary about the fact that we're trying to do a travel book which is neither trying to exoticize a place—somewhere that the author has visited, and the reader never will—nor be a tricksy travel book. Quite a lot of the genre of travel is depoliticised. This book is trying to make it politically relevant. If it encourages other people to do that, that's great.
The funny twist is that the book still hasn't really figured out where it's sitting on the shelf. I go into bookstores here [in London] and it does sit in different places. With the paperback edition, the publishers are going to push it as travel, which both of us feel is a good thing. We want desperately to get it out of the zone of current affairs and oil specialism. Hopefully when the paperback comes out it'll find a slightly easier place within the stores.
INTERVIEWER
What's next?
MARRIOTT
In terms of The Oil Road, we're creating a campaign around trying to raise questions, putting pressure on different places and the building of further pipelines, critiquing the maintenance of British support for the Azeri government, and keeping an eye on developments along the route. As Mika mentioned, a key pivot point will be the Azeri elections this month, but there are lots of other issues. There's a big debate about the creation of a new "contract for the century"—not that it will be called by that, but basically that scale of a contract between the oil companies and the Azeri state. That will be something that we have to engage with.
On a wider level, we work a lot trying to pressure financial institutions into not financing oil and gas developments. Particularly in the last period and the coming future, that's about trying to stop Shell and other oil companies drilling holes in the Arctic. We're feeling quite happy because Shell has decided not to carry on with their drilling programme for this year at the least. Our job is to make sure that that's forever.
MINIO-PALUELLO
Platform works as a collective. In Egypt, where I'm based, achieving social and environmental justice means restructuring the way oil and gas resources are controlled and used. BP has been the largest oil company in Egypt for a long time, and supported the regimes all across North Africa, such as in Algeria and Libya. Part of my work is exploring how to connect movements struggling on oil issues here with movements elsewhere: frontline communities here with frontline communities fighting BP. This is partly why we're here to the States this month, to strengthen those relationships. Trying to build all those connections will be a large part of our year.
Benjamin Morris is the author of numerous works of poetry, fiction, and nonfiction, and is a member of the Mississippi Artist Roster. His research work, based at the OpenSpace Centre for Geographical and Environmental Research at the Open University (UK), explores the intersection of culture and geography.