The title of Melissa Malouf's new novel, More Than You Know (Dalkey Archive Press, 2014), is more than the title of a classic Vincent Youmans' song from the 1930s. It's also a reflection on the perpetual state of mind of the book's narrator, Alice Clark, a retired English professor who for most of the novel is driving across the country, from California to Vermont, to confront a mysterious couple who may be implicated in the deaths of her three best friends from graduate school. Alice, now in her 60s, may have let years go by since the Jensens entered (and changed) her life, but she's held tight to the question of their involvement, a question that now demands an answer. Warm, funny, and wise, but equally sly and unsettling—Alyson Hagy has suggested that it blends the "psychological intensity of Donna Tartt's The Secret History with the cultural melodies of Jennifer Egan's A Visit From the Goon Squad to produce her own dark and roving examination of American friendship"—More Than You Know is a perpetual riddle of a book.
Malouf, the author of another novel and collection of short stories, is Professor of the Practice of English at Duke University where she teaches literature and creative writing. She notes that her first published short story was in New Orleans Review decades ago; following the publication of her new book, NOR caught up with her for a few questions.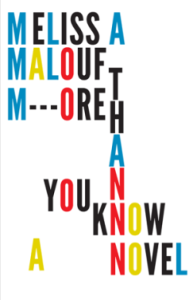 INTERVIEWER
Congratulations on your new novel—it's an impressive work, and a brilliant addition to the canon of American road novels, though it certainly blends other elements in there too. When the idea for this book first presented itself, did you know you wanted to write a book with travel at its core?
MALOUF
The "canon of American road novels"—I'm thinking On the Road, of course, but also Travels with Charley, Life on the Mississippi, Tom Wolfe's Ken Kesey book, Zen and the Art of Motorcycle Maintenance—strikes me as odd company for Alice's story, which is not a celebration or contemplation or critique of American life or landscape. So, no, I have to say that a book with "travel at its core" is not what I had in mind. I wanted to write about something that had been gnawing at me for years, about something that happened that I didn't at all understand. Alice's cross-country journey turned out to be a surprising necessity. But here and there a drugless "trip" indeed.
INTERVIEWER
Let's talk about Alice—the book is told entirely from her perspective, which is a delight to read. She's smart, affable, easy to listen to, someone with a goal in mind but not afraid of a few detours along the way. One of the joys of riding in her passenger seat is not just finding out what happens as she goes to confront the Jensens, but in listening to her commentary as well—on age, on bodies, on just about everything. When did you meet her, and how long did it take for you to hear her voice?
MALOUF
I started a first few pages with the game of Clue. But who has it? and why? and what does it have to do with a death (and then deaths) that was not clearly a murder? I don't know when exactly I found Alice—I know that very early on she had other names. But the more she wondered, the more her past and present life became a kind of wonder- or wondering-land, I also began to find her in moments such as, speaking of her mother, "I've hoarded her hoard." She hangs on. That told me something (and hence the bits of text she shares—the diary, the photographs, the newspaper clipping, the medicinal recipes, etc.). I also had to think about what is driving this as first-person narration (it didn't have to be).
Forgive me for not being able to pinpoint any of the steps in the process. But I gradually kept allowing the digressions you mention, and they seemed right, they seemed to be "in character." She's a wonderer not just about the "plot," but about what it's like, for example, to be too tall to fit under the desk during one of the 1950s duck and cover rehearsals, and whether it's easier, "if you are a featherweight, to negotiate the narrow spaces that keep you close to and apart from those you love?" (At a work-in-progress reading a good while back, I read that passage, among others, and a "featherweight" woman in the audience wept quietly. It's not easier.)  I "got" Alice once I became comfortable with letting her interrupt the story as such for bits of musing, or sometimes cantankerous or plain dumbfounded reflection.
INTERVIEWER
That leads directly to the question of prose style. Overall, the voice of the novel—not just Alice's thoughts and opinions—is lovely, natural, and full of that clear California light. You seem to strive for clarity and transparency in your prose, but are equally open to great variations in style: long, flowing paragraphs punctuated by short, staccato stops, often to humorous effect. How did the prose style for this book emerge?
MALOUF
This one might be a little easier, though equally my best guess. First, though, that "clear California light" is deceptive, don't you think? I don't mean Alice's voice—she's not hiding earthquake potential, not harboring fires and floods, not lulling us into believing that a great view is worth giving up looking at more important things. Can we say that she is perhaps full of a certain slant of light that belies her many years in California?
I think the prose styles must have something to do with the freedoms I discovered in writing my first collection of stories, No Guarantees. Freedoms having to do with what I describe to myself as what different stories needed me to do: narrators that insist on fragments, others that need whole paragraphs to finish a sentence, omniscient narrators who can do what they please (so they think). That first collection taught me how to listen to what a story needs, not to what I need a story to do for me (and, believe me, I had some false starts with stories that started out telling me what I already think). Those lessons must have had something to do with the prose style of More Than You Know, a style that we can't call in my "'voice," for better or worse. And there is one other thing: like Alice, I'm a perennial English major. I read, I've got a library in my head, I borrow from that library. Just as some weird combination of Garcia Marquez and Hawthorne helped me to get to "Red Horse Running Through Water" (from No Guarantees), so Don DeLillo had something to do with Alice's highwayman on her way to Las Vegas. I can't say precisely what.
INTERVIEWER
Which raises the question: any good road trip has its share of memorable places and individuals, and Alice's is no exception. She stays in a spooky, seemingly abandoned house near Salt Lake City, and encounters such human mileposts as a cowboy Casanova in Wyoming, and a family of traditional healers in Omaha who offer her an unusual (but effective) urine-based "Balsam for All Kinds of Pain." They could so easily be stereotypes, but each one of these individuals feels so much like a person—where did you meet these people?
MALOUF
The "where" part of this question is partly easy to answer: I ran into them in my imagination. But that imagination has been fed by what I've heard, read, dreamt, desired, feared, lived. I'm intrigued by your calling them "human mileposts," as if they are inevitable, or, as you say, possible stereotypes, which I'm so glad they're not. I think that I wanted Alice to be challenged (beyond getting from one place to the next), to be out of her element psychologically as well as physically, to be unable to rely on any of her cautious or circumventing habits of mind. She is also an "innocent abroad"—her inexperience keeps her from being aloof, cynical. She has never come across anyone even remotely like the people she encounters—neither have I—and she pays attention, she stays engaged even when she's perplexed, and I think it's the attention she gives to the people she encounters that individualizes them, that gives them an opportunity to enter and subsequently remain in her thoughts.
INTERVIEWER
So much of this novel is about America: America in the mid-60's, when the first half of the action takes place, a sad and difficult and violent time in the country's history, but also America in the 1990s, when things could not have looked more different. 1995—the economy was booming, impeachment hadn't yet rocked Clinton's presidency, no one had dreamed of 9/11 or the war on terror. What about these periods captures your interest, and what does it mean for Americans of Alice's age to have lived through them both?
MALOUF
Those mid-sixties for Alice were not like my own. She's nearly thirty at the time, and nothing in her background or context would put her in the mix of flower-power. She and her friends don't know enough about what was going on in Vietnam to somehow keep Richard from enlisting—they throw a party instead. Alice doesn't want him to go, but that's because he's Richard, a pacifist, not because she or anyone in her cohort know enough in 1965 to be against the war. And I wanted her to sense that the mid-nineties were of course different, but not yet politically mind-boggling. This story had to be pre-George W. Bush, pre-9/11. She knows now, in the present, that her mid-sixties years were complacent, personally and politically. By the time the novel ends, the mid-nineties haven't either. She hasn't yet lived through them, lived through the so-called election of 2000. But she will, don't you think?
INTERVIEWER
One certainly hopes. On that same note: a question about structure, which Lee Smith praised in her blurb for the book. You write in a partial frame narrative, wherein the portions of the book in the 60's are told in flashback, and the portions in the 1990s take place in Alice's present. It's not until later in the novel, however, that you close the loop and allow us to see how much of the action has already happened and why. It's elegantly done, and very satisfying—how did this decision come about?
MALOUF
I have to say "discovery" again instead of decision. Sometime early on, I was thinking (all-too-flat-footedly) that the story would happen in two parts: then and now. But the now turned out to entail getting Alice on the road. That road began to make sense at some point as the road back (she remembers, frets, remembers more) as well as forward. But I also had to consider where she is when she's telling the story—so that meant remembering the road trip as well, and letting her think about where she went and didn't, about the people she met and didn't, and about new ways of being by herself, or not. There is more than one rabbit hole this Alice passes through, yes?
INTERVIEWER
Without giving too much away about the plot, suffice to say that the main thing Alice has packed in her suitcase is a question, and she's not going to leave until she gets its answer. The mystery at the heart of this novel feels very noir—she may learn who these people are and what killed her friends so long ago, or she may not. Neither she nor we know. It's almost like Raymond Chandler saying he had no idea who killed the chauffeur in The Big Sleep. Were you at all influenced by noir? Are you?
MALOUF
"Noir": as in cynical? No. And Alice is way too soft-boiled to be at home in a Chandler novel. But, true, she doesn't know "who killed the chauffeur," so to speak, even though she does find out a lot, more than she knows what to do with, about the bad guys and about herself. That question she packed in her suitcase, as you put it, gets answered, then re-answered, and then re-answered again—maybe that's a bit noir-ish? But I didn't have a genre in mind, none of that kind of influence. Do I prefer endings that don't end? "Prefer" isn't the right word. But you see such non-endings in my fiction in general: initial problems or questions that come to require additional luggage, packed this time by a reader, not by me.
 INTERVIEWER
Lastly: Foyle's Bookshop has already asked you what you're working on next. We here at NOR want to know: what are you reading, and do you have a recommendation for summer bibliophiles?
MALOUF
I've recently finished reading Howard Norman's latest novel, Next Life Might Be Kinder. I've got the book chosen for the freshman summer reading program, Americanah, on order. For poetic pleasures I'm reading Rita Dove and Jim McMichael. I always read The New Yorker cover-to-cover every week. For class preparation (I'm teaching an introduction to literary genre course in the fall, organized around the topic of "Sex, Death, and Money"), I'll be re-reading Portrait of a Lady, The Book of Common Prayer, and Cat on a Hot Tin Roof. For summer fun there's the second season of Orange is the New Black.
A native of Mississippi, Benjamin Morris is a poet, writer, and researcher, and member of the Mississippi Artist Roster. His next book, a history of Hattiesburg, Mississippi, is forthcoming from the History Press in 2014.