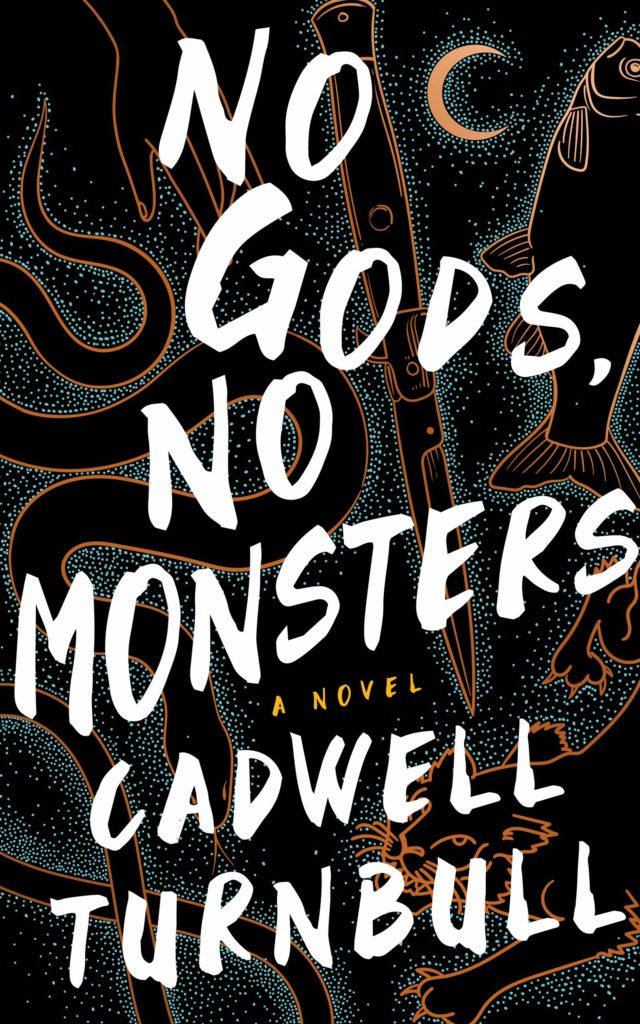 What would you do if, on a random Tuesday morning, you came across a video showing police body cam footage of a werewolf being shot? Would you believe it? Would you care? Cadwell Turnbull's No Gods, No Monsters poses the question: what if everything that goes bump in the night were real and how would we treat them?
The book opens with a man headed home, still struggling with the loss of his brother. He is the omniscient narrator throughout the novel, stating, "I'm going to tell you a story. And, like so many stories, this one begins with a body." The book is broken up into parts that depict the lives of different characters grappling with the existence of monsters being revealed to the public. Some characters are monsters, others are humans. By having an omniscient narrator, the novel flows seamlessly through the multitude of perspectives and storylines, weaving them all together.
The body that starts the story is that of Lincoln, a black man just shot by Boston cops. Laina, his sister, has questions – why won't they release the body cam video? what did they do to him? – but when she mysteriously receives the footage, she wasn't expecting the answer to be lycanthropic. The book analyzes how prejudice and racism in America might intersect with the existence of the supernatural. Against the backdrop of fiction, Turnbull leaves readers thinking critically about the social systems in place and how people treat others who are different.
There is even more representation to look forward to through the plethora of queer characters. There is a polyamorous relationship, an asexual trans man, a non-binary character, and queer women. Turnbull doesn't spend a ton of time explaining the queerness of his characters; being queer is part of their existence but not the center of this story. They are dealing with a world of monsters.
The characters have complex lives and Turnbull's representation is refreshing. Readers with an understanding of intersectionality will discover the depth of the more emotionally intense scenes. When Ridley, a biracial, trans character, says, "People need to be protected too," the layers of hurt ripple through each character as Ridley realizes how he sounds. BIPOC and queer monsters just want to be accepted by society and it is not the first time they have had to stand up for themselves.
This is a book for readers who love the fantastical elements often portrayed in young adult novels but who want to see them amidst the backdrop of adulthood. The book depicts the complexities of familial and romantic relationships that are never fully broken, but the pieces of which will never truly fit together. But there's also werewolves, witches, and a dragon. It does not shy away from the trauma of addiction and how expansive its impact is on the people who care about the addict. "Addiction doesn't mix well with magic," states Rebecca, knowing that addiction doesn't mix well with anything.
Admittedly, a good portion of the book is quite sad as the characters attempt to process their pasts while dealing with a new present. Some are still running from the mistakes of their childhood, others wrestle with how they have failed their family, and most long for love and acceptance. But in the moments where one character goes from seeing himself as "a thing to be used" to "a person to be needed," and another states, "We all have to make amends for all the people we let in," readers can delight in their progress.
No gods! No monsters! This is the chant taken up by protesters towards the end of the book, from which the title is derived. "The chant is an evolution of an anarchist slogan: 'No gods, no masters,' the original version meaning no human above. It is meant as a call against hierarchy." Above all else, No Gods, No Monsters critically examines what would happen if monsters were introduced to American culture, and it does an amazing job. The book ends with unanswered questions, hopefully to be answered in the next book of the series.
---
Catherine (Cat) Ashley is from Arlington, Virginia and is a senior at Loyola University studying English and Psychology. She enjoys reading fiction and spending time at the beach.