Rant. Chant. Chisme., by Amalia Ortiz. Wings Press, 2015. $16, 128 pages.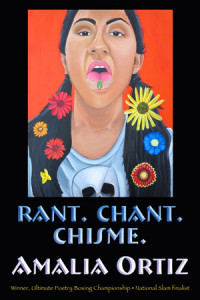 Amalia Ortiz's debut poetry collection Rant. Chant. Chisme. captures the unapologetic voice and identity of a Chicana living on the Texas-Mexico border. Divided into four sections—Magic Valley Girl, Mujer de Tacolandia, Mestizo American, and Madre Valiente y sus Hijas—each segment considers the hardships of young Latina women as well as other sociopolitical injustices found at the border. Throughout the book, Ortiz plays with style, ranging from long serious pieces to jazz-like poems that are far shorter and more lighthearted.
In a piece called "Chocante"— a Spanish word meaning "conceited" or "snobby"  in the context of this poem—Ortiz tells readers how her grandmother taught her "to be docile" because "girls are born to suffer!" Unfazed before the opinions of others, even the criticism of her own grandmother, she uses her words—defiant rants and chants—to burst from the shadows and bring attention to her feminist voice which often remains ignored as young woman of color living on the border. She writes:
Yes, I sure can talk a riot.
Been called angry, but I'm happier
than when I was afraid and quiet.
If you're proud and loud and willful,
you're "una mujer desgraciada."
But a matriarch must first rule herself,
y a mí nadie me manda.
Ortiz's bold statement of opposition speaks to the experiences of many women who struggle with similar circumstances. In the lines above, she explains that a loud and willful woman is often categorized as "desgraciada," which means vile. A self-proclaimed matriarch, Ortiz speaks for oppressed women when she writes the final line, "y a mí nadie me manda." This phrase roughly translates to, "And nobody bosses me around."
Ortiz's poetry masterfully weaves Spanish and English together into rhythmic, lyrical lines one would only expect to hear in a slam poetry session. Certainly not a newcomer to chanting performance poetry on stage, Ortiz appeared on HBO's show, Def Poetry Jam, for three seasons and stands as the first Latina to reach the National Slam finals. Rant. Chant. Chisme. offers readers the opportunity to glimpse into Ortiz's cultural background and success as a professional slam poet who continues to dominate the stage with her fiery lines. As a writer, she translates her lyrical chants to the page without losing her sting.
In "The Women of Juárez," Ortiz breaks down the barriers on both sides of the Texas-Mexico border amidst the unexplained female disappearances in Ciudad Juárez, Chihuahua. With news of tragedies circulating through the media, Ortiz uses her own perspective as a border native to bring a voice of reason to the abductions and homicides taking place in the infamous city. She begins the poem by elaborating on the divide between El Paso, Texas, and Ciudad Juárez, writing:
at the West tip of Texas
a line divides us from them
and on the other side
they all look like me
yet on my side we sit passively nearby
while the other side allows a slow genocide
Although a wall divides El Paso from Juárez, Ortiz calls herself a "dead ringer" for all the missing and murdered women of the other side, and as such, she stands as a "symbol of those who survive. / mouth open in defiance of their silence."
Besides giving a voice to the missing women, Ortiz, as a Tejana activist, confronts the sociopolitical issues between Americans and Mexicans on the border. She describes and detests the mindset of American superiority in the following lines:
all those missing women
they all look like me
but I am told I am different
less Mexican, less poor
American thus worth more
Despite what others tell Ortiz, she equates herself with the women of Juárez to point out the absurdity of American exceptionalism. As the poem continues, Ortiz recalls being told that the infamous city's homicide problem "isn't an American issue/ and [she's] lucky here on the safe side." She manages to mix sociopolitical commentary with both traditional and experimental poetic form to explore a subject matter usually obscured from public attention.
In "Unnamed," Ortiz speaks directly to those who find themselves ignored and hidden in the shadows. She invites the disappeared to share their own stories with the world. Although Ortiz admits to being "[o]verwhelmed by the border crisis," she rants about what the voiceless and oppressed really need instead of words:
They asked me to give [them] a poem.
 But, what [they] need is a bowl of soup.
They asked me to give [them] a poem.
But instead, I will fit [them] for shoes.
Ortiz critiques her own defiant chants,  reasoning "all the talking in the world is not what [people] need."
Rant. Chant. Chisme. reveals Amalia Ortiz's dedication to perfecting her craft as both a poet and performance artist. Indeed, her collection embodies the soul of the fiery poetry that has shaped her career. Although many academics and traditionalists frown upon slam poetry, Ortiz successfully places herself on the border of two very different worlds: the stage and the realm of literary poetry. As a result, her book has garnered rave reviews even as it blurs the distinctions between slam poetry and its traditional, written form. Sandra Guzman of NBC News named Rant. Chant. Chisme. as one of their "Ten Great Latino Books Published in 2015." She also mentions that "Ortiz honors the great Tejano poetry legends, Raul Salinas and Texas poet laureate Carmen Tafolla" through the poetic form she utilizes within her book. Although an emerging writer, Ortiz stands as one of the few poets who has given a voice to both women and Mexican-Americans while simultaneously bringing attention to recent political issues along the border. Rant. Chant. Chisme. is a testament to the power of storytelling, and Ortiz is ready to pass the microphone, promising to "stay quiet and listen / as you tell [her] your name."
Originally from Laredo, Texas, Jennifer Buentello is an MFA in Creative Writing candidate at The University of Texas Rio Grande Valley. Her writing focuses on capturing the often unheard voices and experiences of those who live on the Texas-Mexico border.