I had just sat down from feeding the jukebox when I felt someone touch my shoulder. I turned.
"Guess who?" she said.
I wouldn't have recognized her if I didn't notice the faint half-moon scar on her left cheek. It had been a mistake to throw that plate back at her. The thing wasn't supposed to shatter and it didn't when she chucked it at me.
"Look at you! What…a…surprise," I said and we hugged. She had put on fifty pounds, it felt like, probably more. Blond curls now to boot.
"I recognized your stoop," she said. "Still playing that piano I bet."
"I sit in here and there."
"You never left?"
"I got off the rigs and behind a desk," I said. "They'll bury me right here in Galveston."
She laughed. "No surprise there."
"How's Houston?" I said.
"Don't know. Haven't been there for a couple of years and thank God for that."
I took a sip. "Can I get you something?"
"No, I already got a drink comin'. I'm here with my baby sister, Lucy—'member her?—and some friends over there." She pointed at a table where chubby ladies with big hair and heavy make-up were talking to a waitress. "She's getting married on Saturday and I came down to help her and Momma get it all together."
"Lovely."
"You think so? That's a new attitude."
"To each her own. Weddings are real nice for ladies, big day and all."
"It's gonna be a big day, for sure, let me tell ya," she said. "Little Lucy got herself a choice man. Car dealer, doin' very well."
"Give her my best wishes," I said, offering a wave to the ladies but they were deep in a pow-wow and didn't see me.
"You hear anything from Char and Ray?"
"No. Don't expect to either. He had a bad go of it at the VA, got committed, and well, she got tired of waiting for him to get his mind back and ran off with some guy she met at church. Think they went to Oklahoma where he was goin' to set up his ministry."
"Is that really true?"
"That's what they tell me," I said before taking a deep slug.
"I always liked him. I really did. That is such a shame."
"Yeah," I said.
She looked at me hard and tried to smile. "How'd you know?"
"Pardon me?"
"You knew all about what was going to happen to me in Houston, with Bill, didn't you, and you let me go all the same."
"Now, darlin', I thought we were having a happy little reunion."
"Why'd you let Bill take me from you? I've been waiting ten years to ask you that."
"You seemed happy to go."
"And you seemed not unhappy enough to see me go, I'd say."
I put down my drink and flashed my eyes shut for a moment. The pretty jangle of a pedal steel guitar ravished the pause. Emotion cascaded through me and I went slack, almost falling off my stool. I glanced at the barman, looking on with a cool expression.
"Still a drunk," she said.
"Love's always been more trouble than it's worth for me, I guess."
"A real man fights for his lady and you sat in your corner."
"See? That's the thing right there," I said. "I suppose I was done fighting. You bled it out of me. And I do mean bled."
She took a step towards me, drawing up her girth. I noticed the tattoos on the back of her wrists. "If you'd kept me," she said, "I'd still be beautiful."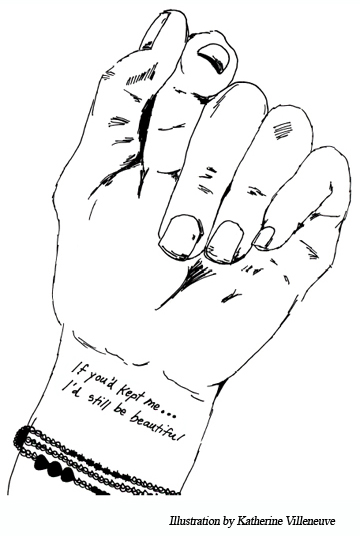 Stirling Noh is a Canadian author of existential novellas and poetry, and a composer of experimental music.