Revolutionary Brain: Essays and Quasi-Essays, by Harold Jaffe. Guide Dog Books, 2012. $13.95, 128 pages.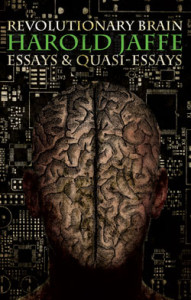 Innovator of "docufiction" (the meshing of documentary and fiction), Harold Jaffe has released another strange text that bears witness to contemporary political crises and the sorts of "officially" propagandized ideologies complicit with wars, oppression, neocolonialism, and profit-mania. Jaffe has long been known for eliding genres and disrupting found texts in order to subvert mainstream viewpoints. Both alarming and playful, Revolutionary Brain is an accessible read that offers neither authoritative explanations nor easy resolutions to today's problems of digital overload; instead, the book, by its own example, attempts to illustrate how art and activism can shock us out of complacency.
As with Jaffe's previous books, Revolutionary Brain frequently interrogates a culture that both censures and consumes extreme violence. The book is largely a montage of unheard "voices," beginning with the opening section, "Death in Texas," that provides us with the last words of sixteen death-row inmates. In "Crisis Art," Jaffe traces multigenerational examples of art aimed at social change, including Polish-born Krzysztof Wodiczko, who has employed guerrilla projections on government buildings in order to "unmask the buildings' existing rhetoric," and Thai artist Rirkrit Tirivanija, who has appropriated vacant space to help the homeless.
Jaffe's underlying premise in these essays and quasi-essays aligns with Georges Bataille's insistence that the strongest art must function as an "immoral subversion of the existing order," because "morality" is in the possession of the existing order and as such is never what it professes to be. Similar to Bataille's notion in Toward Real Revolution that "we must know how to appropriate the weapons of our adversaries," Jaffe states "crisis artists must swallow the poison in order to reconstitute it. Expel it as art." In large part, Jaffe's aim is to use tragicomic satire to make us re-see the daily flash flood of news and information we are now used to swimming in without regard.
The book is rife with what might best be called "list" structures (a technique also used by mainstream media ad nauseam), beginning with the aforementioned enumeration of last words of death-row inmates. What becomes curious is how the book ends: with another list, one that hits upon the second half of the death-sex match-up: pornography. The last piece in the book is called "Revolution Post-Mill," and the mill here seems to denote both millennium and gristmill. It's the latter that is on display in a four-page list of online videos (WMVs and MPEGs) with titles such as "Cougar Stalks Son's Pal & Plugs Him With Strapon," "Teen Babe Tossing Hunk's Salad," and "German Slut Ketchup Enema"—to name a few of the tamer ones.
One might view "Revolution Post-Mill" as gut-sucking gratuitousness or sheer shock, but that would miss the point—this list is not on a website, it's in a book about subverting authorized ways of understanding our culture. And so the porn list becomes a discourse unto itself, both like and unlike any other discourse, especially when it comes at the end of a book that begins with the last words death-row inmates—both are subjects, or might we better call them "objects," that the public and media thoroughly ignore. Ultimately, Jaffe's examination of opposition and its purpose helps us re-imagine our fetishizations of technology: namely, by charging "real" news with exaggerated versions of itself. The effect is that, if we read Jaffe closely enough, we realize that "real" news needs no exaggeration at all.