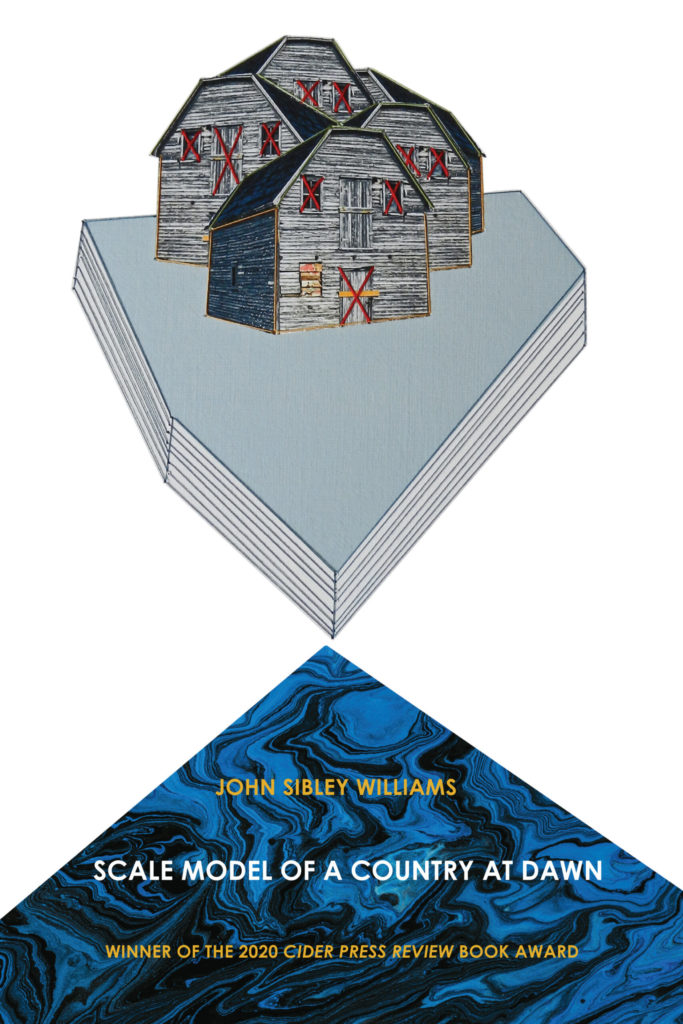 Scale Model of a Country at Dawn by John Sibley Williams is a collection of poetry offering a view of his inner and outer worlds, and the way they reflect his spiritual and emotional journey with grief.
The book is split up into three parts: "Ordinary Beasts," "Suture," and "Object Permanence." Each is mournful and imaginative. In tune with the themes at play, the order of these poems builds as it goes; the lines take each other apart and start all over again, mostly through the lens of nature. The structure of these poems is, for the most part, free-form, one-page elegy. The speaker observes the world's natural order in parallel to his own grievances in a melancholy tone. Wisdom and spirituality are woven throughout the entire book. The revelations he arrives at are not solutions to pain, but nuanced, ambiguous reflections on grief, nature, and sanctity. Natural imagery reflects his inner world and illustrates perspective, both literally and philosophically working hand in hand. Its scenery—across a starry sky, rivers, and fire—invites meaning: death, abundance, absence. The poet reflects and personifies through his own fables of a thirsty ocean, a forgotten bridge. "I would have believed my father / when he said you can't drink saltwater & so all oceans are thirsty. I would / have let that statement wound me."
The poems portray the speaker's journey through existential grief. He allows silence to invite memory, and finds he resents "the churchlessness of raw earth," of painful loss, and questions death in the literal and metaphorical sense. Our proximity to death blinds us like staring at the sun—and the bleakness that comes after it. "Practicing my dying or unburying / my daughter from our wind-wracked / house just to bury her again in an equally / unforgiving earth." Williams works through layers and layers of grief like the layers of the earth. He allows himself to be fully submerged in death, the underground.
The poet finds that everything is everything; pain, joy, our selves, and the shadow on the wall—these polarities are reflections. He also meditates on the idea that what makes something is just what it acts as; like a projected image, "nothing returns in its original form." Old and young, as whisper and wail, as fire and prayer—we cannot truly take or give anything. He questions our collective spiritual evolution, our relationship to god, our flawed idea of holiness. Myths evolve, beliefs become less saturated, and our stars become LED lights. Religion is like a game of telephone.
From the abundance of summer to the hollowness of a scale model, he finds "the world is worth singing into," and there is hope, acceptance, maybe even ecstasy, in absence—like breathing in water. The capacity to feel darkness, and the sameness in it all, expands our understanding of light. "In the whirl & whorl of it all, a small / note taped to the inside of my heart: / remember, there is always something / to forgive, to be forgiven for. How / smoothly the past bleeds into now."
The poet's perspective is both starry-eyed and deeply rooted in truth, bringing endless intricacies. It is likely suitable for readers who enjoy exploring spiritual and emotional inner-workings and perspectives. This book also has great potential to help those who are experiencing grief themselves and looking for some honesty in it all. It's not a book for readers looking for a quick distraction, but ones looking to be more immersed in their own world, and the collective experience. This wasn't a breezy read, but it forces readers to be patient with their individual, varying abilities to conceptualize deep symbolism. The poet draws out his imagery, and at times it was unclear what descriptions should be broken apart and what should exist for the sole purpose of setting and aesthetic; the potential for either contributes to its contemplative mood. Cumulatively, the poems are exceptionally insightful and the collection is more than worth it.
Scale Model of a Country at Dawn is enlightening and, at moments, grim. These poems are continuous riddles playing with the stars in our sky and the fire through our trees that lead us to a ripe, spiritual truth.
"It's amazing what you can find beneath what you're looking for."
---
Ruby Zlotkowski is a sophomore at Loyola University New Orleans, studying English Writing and Graphic Design. She moved from her home city of Chicago to New Orleans in 2020, and immediately fell in love with its trees, cats, and hot sun. She enjoys reading and writing work regarding nature and eclectic spirituality.