With Abraham Smith, Scott McWaters is co-author of Tuskaloosa Kills, a book of lyrical prose about living and teaching in Tuscaloosa, Alabama. His fiction has appeared in many journals, including Caketrain, Carolina Quarterly, New Orleans Review, NANO Fiction, Denver Quarterly, Pindeldyboz, Madison Review, The Florida Review, Quarter After Eight, and Yemassee. McWaters holds a BS in Secondary Education Language Arts from The University of Alabama and an MFA in Fiction from the University of Memphis. He has been an instructor at Alabama since 2002 and is a three-time finalist for the University's Last Lecture Award, as well as a recipient of the English department's Outstanding Teaching Award by an Instructor.
Tuskaloosa Kills chronicles the experiences of living in Tuscaloosa, both as a college student and a teacher at The University of Alabama. Through a series of humorous anecdotes and conversational prose, Scott McWaters and co-author Abraham Smith candidly paint the characters and inner workings of Tuscaloosa—along with the nostalgia that comes with that. These pieces consist of tales of binge drinking, game days, greek life, and good ole' southern pride that make up the foundation of life in the city. The book contains clever commentary on wealthy students, educated elites, and Tuscaloosan locals. Tuskaloosa Kills is broken up into two sections, fall and spring. Time in Tuscaloosa passes by semesters. The book explores the sometimes grotesque, transitory lives of the students and the strange performance of teaching.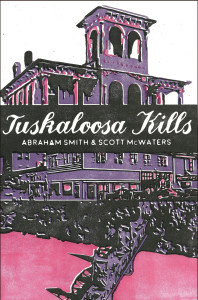 NEW ORLEANS REVIEW
Why is Tuscaloosa spelled with a "k"?
SCOTT MCWATERS
Well, for one the town used to be spelled that way, with a K. But the book is about words, the words we speak that make and unmake a community. The book, so far as a book can, tries to capture the vibrancy and the fluidity of the human tongue. And how that's always in flux.
NOR
Tuskaloosa Kills seems in some part to both poke fun at and pay homage to the distinctions of the Southern way of speaking—and, perhaps by extension, living. What inspired this fascination?
MCWATERS
I guess you write about what you hear. Can't help but to write about what you hear as a writer. I could try to sound erudite and talk about Gadamer and a fusion of horizons but that's boring. The book tries to capture how language makes us and unmakes us. And, strictly speaking, we are all in this together.
NOR
How has your relationship with the city and university changed from being a student at Bama to working there as an adult?
MCWATERS
Seems to me that higher education has changed dramatically since I was a student. A university like UA is a business with a brand to both create and protect. I'm not sure this is a good thing for education. Should teaching really be another "service" industry? What are the implications for education if this is the case? Of course to teach anywhere is to step behind the curtain and really see and hear how universities actually work. You can't help but be ignorant of all of that when you are a student.
NOR
Football is the lifeblood of the university. How distanced are you from football culture? Do you still go to the games?
MCWATERS
I was born to a father who is an Alabama football fan, so I was christened to love Bama football from a young age. And I still love it. But to open your eyes and ears to the game day experience is, at least to me, to think about how we've gone too far. I'm thinking about The Sun Also Rises and how money always ruins the true value of something. I still admire the talent and skill of our student athletes, but I think they may be getting taken advantage of. Their value and values have been totally manipulated so that someone can make a helluva a lot of money. That's sad. It's also kind of fascinating how the South, which has so many problems, has this real source of pride about its college football. It's part of the South's currency in a nation that often finds this region of the country to be an embarrassment.
NOR
Football is one of the most violent pastimes Americans seem to never get tired of. Do you see the growing number of serious, lasting injuries players continue to sustain ever effecting a change—be it in either the American football industry as a whole or at the societal level?
MCWATERS
Twenty years ago, when I was in college at UA, we never talked about concussions. Never heard about them much as they relate to football. But now we do. I guess this links to what I said earlier. I'm not an activist. I'm a writer who is trying to listen to how we talk. But the most interesting things are the silences. There's a quote from E.M. Cioran: "Write books only if you are going to say in them things you would not confide to anyone." I think Tuskaloosa Kills tries to be true to that axiom.
NOR
How so exactly?
MCWATERS
It seems to me that society can talk without "saying" anything. And so there is a distinction between what gets talked about and what is actually being (silently) said. I guess the book tries to "talk" about things that happen at UA and around Tuscaloosa that perhaps never really get "said."
NOR
What was the collaborative process like for writing this book?
MCWATERS
It was great to collaborate! Writers should do this more. We usually have a "lone wolf" mentality about writing, but much is to be gained by weaving voices together to create a book. Hopefully it is something noticed by the reader.
NOR
 What was it like weaving these voices together? How long did the collaboration take, and what difficulties did you encounter during the process?
MCWATERS
Abe would write something and send it to me, and then I would read it and write something and send it back to him. It was just a little hot potato. The voices came easily because we both know our sliver of the town pretty well. Difficulties? A lot got edited and left out, I'll admit that. It was maybe too personal about other people.
NOR
By "personal," you mean you reveals others' secrets?
 MCWATERS
Yes. Or gossip about others' secrets. Gossip is fascinating. It's both very personal and intimate, but at the same time it's totally groundless and void of the person being talked about. And yet gossip is a vital part of any community. We had no intention of hurting anyone. But I do think we wanted to be true to the gossip. What people say privately, for instance, about UA, what they feel privately but would never talk about publicly. Those are often two very different stories.
In what ways is life in Tuscaloosa cynical?

MCWATERS
It's all so often so cheap and so transient. One of the things we should write against is propaganda. I'm not a writer in Soviet Russia, so I write against the propaganda of higher education…and the exorbitant amount of money (and debt) students incur just to get an education.
NOR
In the book, you say "I've lived my whole adult life by semesters." Do you see this ever changing?
MCWATERS
Ha! No. Perhaps I'll win the lottery, but I've never even purchased a lottery ticket. Teaching is what I know as an adult. I guess Hemingway wrote about war and its effects on the psyche, and I write about teaching and its effects on the psyche. It's what I know. Probably isn't a good thing for literature. Things probably went amiss after WWII as universities more and more invited artists as "professionals" within their community.
 A New Orleans native, Vanessa Calderon is a writer and student at Loyola University New Orleans.