Close examination may be how poet Adam Clay approaches the world, but his time seems consumed by continual movement. Clay is the author of two previous poetry collections, A Hotel Lobby at the Edge of the World (2012) and The Wash (2006); his new collection, Stranger, was just released from Milkweed Editions. In addition to writing, he teaches at the University of Illinois Springfield, co-edits TYPO Magazine, and serves as book review editor for Kenyon Review. I caught up with Clay, via email correspondence, while he was on a poetry road trip with poet-cohorts, Ada Limón and Michael Robins, with whom he has done triple-header reading tours numerous times in the past decade.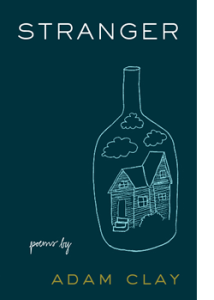 INTERVIEWER
In Stranger, there's a certain line in "Along the Edge of a Season" that reads, "Maybe the word was empire? Perhaps / you were hoping or desiring / a bottle to place this house / (like a ship) into?" This line is also illustrated as the cover of the book. Did you choose this imagery, and if so, why did you choose this to depict your collection?
CLAY
The designer of the book, Mary Austin Speaker (who is also a poet), read the book and came up with the illustration. It seemed just write to me—the book is about daily life, but it's also about movement so I felt like this image really captured so many of the major themes or ideas in the book. I don't think I would have thought of it myself, which is why it's nice to have an outside reader offer ideas or possibilities.
INTERVIEWER
The title of the book appears in various poems and each with a different connotation, most notably, "Exhibit A" and "This is a Frame." Why did you choose Stranger for the title of your collection?
CLAY
I chose the title of the book fairly early—originally there was a poem called "Stranger"—I think it became "Don't Look Back." The first poem in the collection was written fairly early on and it attempted to get at these notions of strangeness and alienation that one might encounter. You touched on the different connotations of the word "stranger," and that was appealing to me, too. It seemed like a great frame into thinking about some of the themes and ideas that the book articulates.
INTERVIEWER
In your previous works, you took a backseat and spoke through personas. Is there a particular reason why you inserted yourself into these poems?
CLAY
I began to feel more comfortable with writing about my personal experiences in a straightforward way. Perhaps age changed me? I don't know why I felt so resistant to it, at least initially, but I simply began to follow the direction my poems were taking me in.
INTERVIEWER
It seems like some of your poems are responses to conversations you had in real life, or a response to a particular poem. Do you find your poems address certain people?
CLAY
I do think the "you" in these poems can be traced to specific people, though they aren't always the same person. The "you" is definitely the speaker in some instances as a way of distancing or attempting to see an experience in an objective way.
INTERVIEWER
In Part Four, one poem in particular, "Everyone Trying to Start/ Something New" incorporates current events: "I realize there are few things to say/ for  a day as heavy as this one: twenty children/ taken away in Connecticut,/ a dear friend gone in Denver." There's a lot of contemplation after this moment of great loss. In the poem, you mention "what words we manage/ are only as useful as how/the words manage to use us." Are there moments where it is difficult to pinpoint words for a piece, and how do you overcome these moments?
CLAY
I've always found it's important to admit when words fail me—and they do, often. It seemed apt when writing a poem about the loss of a poet like Jake Adam York. In losing him, I lost a friend, but we also lost all of the poems he would have eventually written. It makes losing a poet that much more difficult (though, of course, we do have the poems he did write). His death, coupled with the Sandy Hook tragedy, left me wondering how to form grief and loss into words. Unfortunately words sometimes aren't enough.
INTERVIEWER
"Even a Straight Line Must Curve to Shape the World" and "Sounds of an Empty House" draw inspiration from music (i.e., Bob Dylan and Kurt Wagner from Lampchop). When you write, do you find music to have any influence? Are there particular artists that inspire you?
CLAY
I usually have music on when I'm writing—it's usually something I'm familiar with so I'm not paying too much attention to it, but I find it's important to bring in outside influences when drafting. I find, too, that a lyric or line might strike me when I'm not writing—I'll usually jot it down and use it as a way into my own work.
INTERVIEWER
In the poem "Nightcap," the speaker steps back and is conscious of his own development. In the notes, you mention the origin story of "Nightcap" and how the inspiration draws from Bob Hicok's "Equine Aubade" and Jorge Luis Borges', "Borges and I." It seems a lot of things on your reading list have this existential theme. What type of authors or genres do you find yourself reading, or do you not have much reading time?
CLAY
I try to read as much as I can, even if it's just a poem or two a day. I've also found that writing with a book open next to me is really helpful. I used to think of writing as a way of writing my own thoughts down, but I've found that writing can also be a conversation with another writer. The Hicok poem really hit me hard one morning—it made me feel like I had little to offer in the way of my own poems. From this impulse towards silence, the poem tried to consider how to overcome these notions or struggles. I try to teach books I want to read, which has been helpful in allowing me to find time. I also am a book review editor for Kenyon Review, which has allowed me to read a wide range of books. There are so many amazing poets doing amazing things. It seems like a shame to not read as many of them as I can.
INTERVIEWER
Your new collection details shifts in relationships, most notably, the relationship between the speaker and a daughter named Penny. As time passes, the speaker and her turn into strangers. Does this cause excess friction in the relationship?
CLAY
Like any great change, there is a time of adjustments. Some are easier and some are more difficult—but most aspects of life are like this, right? The poems in the collection attempt, at least on some level, to reorder, to readjust, and to reexamine life after transition or change. I found poetry to be the perfect form to do this, if only because I rarely know where my poems are going when I start writing them. The writing process became more about discovery, for me, than anything else.
INTERVIEWER
How has parenting impacted your writing life?
CLAY
Becoming a parent has changed me in numerous ways, but it's definitely changed my concept of writing. When we found out we were having Penny, I knew I'd have to write about her, but I wasn't sure what they would look like—I was especially concerned that it might be sentimental  so I felt cautious about approaching it. Once she began talking, though, I realized that her viewpoint could be an inspiration for my work, which was important for me to learn. Being a parent is a bizarre thing—you become a different person (i.e., the "stranger" of the title's collection) and I think a lot of these poems are an attempt to see how the world can shift or change in such a major way—there's the memory of what's left behind, but there's also the present and the future before you. In some ways, too, we have to let go of what we've always known and accept that the day-to-day will be uncertain and unsure. I think the last few lines of the book attempt to articulate and accept this idea: "growing wiser / the less I learn."
INTERVIEWER
How did you decide which poems belong in which parts?
CLAY
I initially started with a chronological division for the book, but the sections began blending with one another. "Northern Lights" was written fairly late in the process, but it felt like a poem that needed to be early in the book. Many of the earliest poems did end up in the first section, but the book doesn't always hold true to those divides.
INTERVIEWER
Part One ends with "Tell Me Now, Again, Who I am" and Part Two beings with "Start This Record Over." The speaker describes moments of being lonely, but not alone. Part Two then begins with the speaker evaluating choices that led him to that point in time. Similarly, Part Three ends with an image of a cityscape as the sun rises and falls. Coincidentally "Abstract Evolution," the opening poem for Part Four, begins by describing this image of a building and the people surrounding it. It's like we get the city, and then zoom more into it. Is this order intentional, or am I just reading too much into it?
CLAY
I definitely thought about these choices in the structure, including how nature figures into the collection alongside images of the city. I talk about the pastoral some below, but I was also thinking about human constructions as elements of the pastoral—i.e., if we are part of nature, then can we see what we build as being a part of nature? I'm not sure if that's always true, but it's something the poems you've mentioned attempt to reckon with.
INTERVIEWER
Did you have certain criteria, or certain elements in mind when choosing which poem goes in which section?
CLAY
It's usually a gut instinct. When a poem feels like it works, I just know it. I also want to make sure I don't have two poems doing the same thing—each poem in a manuscript should be doing the work that another poem isn't. I look for overlapping messages, themes, or images when choosing what to cut and what to keep.
INTERVIEWER
Part Three is this great standalone piece in the book. Did you originally intend for it to have its own section?
CLAY
It was a very late addition—the book originally only had three sections and a few friends asked about the fate of the poem (it was originally published in The Volta). It led me to think about how the poem might work within the context of Stranger and it was added in toward the end of the process. So much of the book is about the mundane moments of life and how they can be seen differently depending on the mental space one inhabits. It seemed ideal to have a poem about those moments as the penultimate section of the book.
INTERVIEWER
Some of your poems have this pastoral feel to them, like "Sounds of an Emptying House," "Season," "East Jackson Drive" (to name a few). Is there a particular place you find yourself when writing, or are you writing down poems while traveling?
CLAY
Every other April or so I travel with Michael Robins and Ada Limón to promote our latest books. Because it's also April, we all take part in the Poem-a-Day project for National Poetry Month. Some of those poems did end up in Stranger. "Sounds of an Emptying House" was written in upper Michigan between a move from Michigan to Kentucky—it's a poem about being in-between locations, both physically but also mentally as well. I have an office space here at the house where I write, but I've been able to find time to write no matter where I might be: the front porch, the dining room table, or a local coffee shop.
INTERVIEWER
Some of your older work, like your poems, "Scientific Method," "Love Poem," and "Graveyard Song," are different than the poems you have published in Stranger. They have little tales embedded into the stanzas—for example, "Scientific Method" starts with this statistic, and then ends with this imagery of abandoned prisoners interrogating one another in the privacy of their cells. Have you noticed this change while writing?
CLAY
I always want to change as a writer, in some way. I think it's the only way to really stay interested in what you're doing through the written word. I don't know if these changes are always conscious, but I do attempt to reflect on previous work when I begin putting a new book together. In my first book I made a very intentional choice to write myself out of the book (or embed my experiences in the personas of others). My second book became more personal, but I think "Stranger" takes it even further where the speaker in the poems is usually the poet.
INTERVIEWER
What type of themes and events do you find yourself musing more often compared to your previous works?
CLAY
I found myself thinking a lot about fatherhood in the collection, obviously, but the poems are also attempting to examine abstract ideas (language and perception, especially). I wanted to find a way to think about these ideas through concrete terms or ideas. I found a lot of interest in trying to articulate what can't be seen.
INTERVIEWER
"This Pastoral Way of Living" is an example of a sort of modern pastoral where instead of technology or city life, modern communication is compared to the simplicity of language that exists in nature. Where did this musing come from?
CLAY
It was as assignment I completed with students at Kenyon College (where I teach in the summer). We read a Rachel Zucker poem that spoke to the pastoral (and to James Wright, specifically). The assignment was to consider a poem and write the opposite of it in the same way that Zucker responded to Wright's poem. I wanted to consider the pastoral through Kentucky (where I was living in the time). In the end, the poem considers poetry as a type of nature, through the nest.
INTERVIEWER
Your poems include a lot of natural elements, like rain, snow, river, sky, clouds, and water. Even the concept of seasons changing is written in several of the poems. Do you find yourself intentionally incorporating natural elements into your writing?
CLAY
Definitely. I've always found nature to be a source of inspiration. When I can't write, I sit on the front porch or go for a walk (or more often, a run) and usually something comes from each experience. It's easy to get stuck behind a computer these days so I try to make a conscious decision to escape it.
INTERVIEWER
In your collection, Parts One, Two, and Four consist of a multiple poems, however, Part Three is one large piece. It begins with this quote by Mario Santiago Papasquiaro: "A poem is occurring every moment/for example/that fluttering of mute flies." Papasquiaro is a poet whose form is nontraditional. He uses ampersands, forward slashes, and parentheses. Where do you see your poetry going in the future?
CLAY
I'm just now starting to think about my next book. I have several hundred poems I've written since Stranger that I'll consider for the new book. The poems are formal in places, but I think they're also thinking more about nature in a deeper sense. My second book was political in some moments, but I think the new book will be even more so as many of the poems consider the environment, perhaps as an elegy for what we're losing on a daily basis.  Formally, I don't know how these poems will be different, but it's something I'll be thinking about as I put the book together.
INTERVIEWER
​You mentioned that your next few books will contain elegies regarding the deterioration of our earth. What inspired you to incorporate this into your writing?
CLAY
I've always written about nature, but it almost feels like I can't not write about what I'm seeing around us. Perhaps it's the result of being a parent and thinking about the world to pass on, but I feel sure I'd feel the same even if I didn't have a child. I don't know if poetry can be a means to bring about positive change in the way that other art forms (or forms of media) can, but it's one of the oldest forms we have. Poetry was the tool that our ancestors used to make sense of the world. It seems like it has to be the tool to make sense of what we've done to the world—and hopefully how we'll change our behavior before it's too late.
Lucia Moreno is an editorial assistant for New Orleans Review, and a recent graduate of Loyola University New Orleans.