Taylor Mali has authored three collections of poetry: What Learning Leaves, The Last Time as We Are, and Bouquet of Red Flags. He received the 2017 Rattle Chapbook Prize for The Whetting Stone and the 2017 Quercus Review Press Poetry Book Award for his fifth collection Late Father and Other Poems. He has been the "Voice of Burger King"and is the host of the periodic reading event Page Meets Stage at The Bowery Poetry Club in NYC. He has been on the winning team for the National Poetry Slam four times and is best known for his 2002 poem "What Teachers Make," which became the title for his essay collection. He is currently marketing "Metaphor Dice" to educators and blocked poets on Amazon and elsewhere.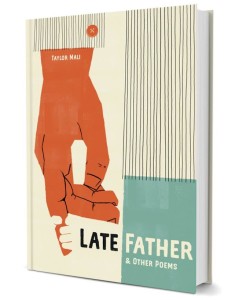 NEW ORLEANS REVIEW
Other than Billy Collins and Gerard Manley Hopkins, who are your favorite poets?
TAYLOR MALI
Where do you get Hopkins?
NOR
In The Last Time As We Are, two poems use a variation of the phrase from "God's Grandeur": "Ah! bright wings."
MALI
Oh, I do like Hopkins, but I wouldn't put him with my favorites. He gave me the confidence to use "different" language. Aside from Billy Collins, my favorite poets are Naomi Shihab Nye, Sharon Olds, Carolyn Forché, Ted Kooser, Lucille Clifton, Aimee Nezhukumatathil, and Faith Shearin.
NOR
Congratulations on getting Sharon Olds for Page Meets Stage. I love that you bribed her by getting Ocean Vuong to share her appearance. One of my classmates has a line from Vuong tattooed on her arm.
MALI
Some of us keep track of people who get our lines as tattoos. When I see Sarah Kay, she tells me about another fan who got something she wrote put on them. I think she leads us all, as far as keeping track.
NOR
My 2002 copy of What Learning Leaves proclaims you "the only person to have won the National Slam Poetry championship four times." Someone forgot Patricia Smith….
MALI
Yeah, Patricia gives me crap about that when I see her. My wins were in team competition, which is the "official" slam competition. Hers were individual championships which is a different gathering.
NOR
Among your labels are slam poet, spoken word poet, "funny man," etc. Which one do you prefer?
MALI
I prefer spoken word "poet" or "artist" to slam poet. My agent suggested one time that I call myself a stand-up comedian, but that didn't really fit.
NOR
Who are your favorite poets in this genre? Sarah Kay….
MALI
Andrea Gibson and Shane Koyczan. Shane read his poem "We Are More" at the Olympics in Canada; I loved it.
NOR
Spoken word artist Neil Hilborn claims he uses his performances for editing. Do you do that?
MALI
Yes, Billy Collins once told me, "Every reading is a dress rehearsal."
NOR
You spent some time with the Royal Shakespeare Company. I understand how it helps performance, but how does that experience effect your poetry?
MALI
I found that I often end my poems with rhyming couplets now. I also learned how to pace poems as I write them.
NOR
When asked the question in workshop, I answer my aim in poetry is to "make people think and laugh, hopefully both." You often quote Horace on the poet's job as to "instruct or delight." So, am I saying the same thing?
MALI
I would say so. Of the two, I appreciate the "delight," the laughter more, it tells me people like the poetry.
NOR
Your son is now three and your daughter one. How is composing poetry different with children?
MALI
I find that I write shorter poems; I squeeze them in when I have the time.
NOR
Like William Carlos Williams writing short poems on prescription pads between patients.
The Last Time as We Are has a few lines from the Serenity Prayer. I use it myself, at times. I blame it on being in a twelve-step program. In The Last Time as We Are there is also a poem where you come upon a group I recognized as taking a break during, or after, a twelve-step meeting.
MALI
That's "Tuesday Nights Outside the Church of Gustavus Adolphus." You are one of the few that recognized that as a group of men from a twelve-step meeting.
NOR
Your last printed work was The Whetting Stone. I survived my suicide attempt and have some survivor's guilt. I am curious if you feel that (there are hints in the chapbook); how did/do you cope with it?
MALI
One of the working titles of that book was Surviving Suicide, but I realized I had not really done that. I was just the person left after it happened. There was an absolution in doing the book. One of the poems, "Do Not Think of Suicide as the Ultimate Fuck You," was me working that out.
NOR
There's also "Sestina" at the end where the envoi is "She was / not mine / to save" I see some of that there, too. Was the book some sort of occupational therapy as well?
MALI
That's true too, of course. There's a quote from Parker S. Palmer that figures into it. He said, "We are whiplashed between an arrogant overestimation of ourselves and a servile underestimation of ourselves." There's also something an American general in the Vietnam War said that I think about, too. It goes something like, "Sometimes you have to destroy a village in order to save it." There were some problems we were having and she may have chosen suicide to deal with them is the idea.
NOR
I may steal Surviving Suicide as a title myself, as I actually have…you know.
MALI
You are welcome to it.
NOR
Soon, your book Late Father and Other Poems is coming out. I recently wrote a poem about my dad, so I look forward to reading this collection. I admire the double meaning of the title. Will it be largely poems previously in print, or did you write many or all of them specifically for this book?
MALI
Some of the poems have appeared elsewhere in journals and so on. I have written a couple of poems concerning my one-year-old daughter that are unpublished. It was supposed to be out in October, but it has been pushed back. I do not want to have it printed as late as December, because then it will look a year old as early as January, so I may save it until next year so it will be all brand new. I am thinking of having "Late Father," which might be the longest poem I've ever written, published in a journal just before the launch, so it will be getting read before the book comes out.
NOR
Are those marketing strategies all from your experiences in publishing, or does being married to an editor help there too?
MALI
That's all from my own experience, but Rachel might stop me if I wanted to publish a book in, say, the middle of summer.
Lee Monson is fifty-six, a graduate of The University of Nevada – Las Vegas '17. He is currently a second-year MFA poetry student at the University of New Orleans. He was born in Upstate Western New York and has also lived in California. He is an actor as well as a spoken word and page poet.