The Jews of New Orleans and the Mississippi Delta: A History of Life and Community Along the Bayou, by Emily Ford and Barry Stiefel. The History Press, 2012. $19.99, 155 pages.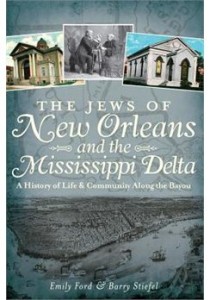 In 2002, I reigned as "King of the Jieuxs" (and my wife the "Jeuixish American Princess") of the Krewe du Jieux, which gets a mention in the introduction to Emily Ford and Barry Stiefel's fun new resource, The Jews of New Orleans and the Mississippi Delta. They also mention the Krewe du Mishigas, another small parading organization affiliated with the Krewe du Vieux. They don't get into the fascinating and very humorous intrigue that led the fifty-member Krewe du Jieux to split into factions and give rise to a renegade krewe. Ever hear the one about the lone stranded Jew on the desert island who builds two synagogues?
This kind of whimsical social history is not what readers will find in this account of Jewish life in the region. Neither will readers find a critical or analytical study, though local conflicts like slavery, the Confederacy, and segregation are not completely ignored. What Ford and Stiefel do is, nevertheless, quite useful and of great interest to local history buffs as well as to students of the Jewish experience in America. There are certainly many fascinating life stories, from early nineteenth century New Orleans actress Adah Isaacs Mencken to Confederate leader Judah P. Benjamin, to "Banana Man" Sam Zemurray. Each of these—and several others—are, or should be, the subjects of gripping biographies. True, the more sordid exploits—like Zemurray's central role in overthrowing the government of Honduras in 1911-1912—tend to not make the cut, but this is because Ford and Stiefel are more concerned with community building. Their work serves as a unifying document, in effect piecing together a delimited and specific social grouping, as their title suggests. As such, they focus mostly on community builders of the past, which is to say builders of Jewish institutional life in the region. As an historical guide to synagogues, still in service or not, this is an invaluable resource. It could serve as a reliable basis for a driving tour of synagogues, cemeteries, and other institutional structures from Vicksburg to New Orleans and many points in between. Indeed, I personally found most interesting the chapters on the vanishing Jewish communities of the smaller towns—Port Gibson, Woodville, Donaldsonville, and the now non-existent Grand Gulf, Mississippi. I also got a typical New Orleanian kick from hearing about certain vanished local business institutions, ain't dere no more icons like Godchaux's and K&B.
A more comprehensive social history of area Jews, including more attention, if I may borrow from Mike Gold, to "Jews without Money," will have to wait for another historian's grant funding. But Jews of New Orleans and the Mississippi Delta is a satisfying and useful grouping in one book of the major names and major institutions that have shaped Jewish community life in the region. This is also to say that it spins a key thread in the broader tapestry of "life and community along the bayou."