The Nerve of it: Poems New and Selected, by Lynn Emanuel. University of Pittsburgh Press, 2015. $17, 120 pages.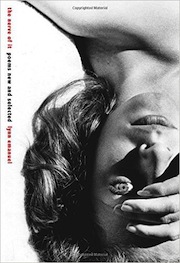 Many approach career-spanning poetry volumes expecting a chronological presentation of the poet's main styles and themes, where a smattering of earlier work gives way with each page to an increasingly larger number of poems culled from more recent collections. Whether the chronological approach is of the linear or the in-reverse type is beside the point; the idea is to dip into the work the poet has chosen to preserve. But what if the volume comes with a disclaimer arguing that "chronology is predictable," as Emanuel writes in the "Note to the Reader" at the beginning of The Nerve of It? Fair enough, I say—there's no reason why a poet couldn't present her work, both new and old, in a different light, the way painters do by exhibiting in different settings. In Emanuel's case, such methodology suggests that she wishes to test her poems against the impulses and assumptions that have accompanied them since they were first written and published.
Emanuel's favorite themes and formal strategies oscillate between frank autobiography, written in loose lines marked by frequent tonal shifts, on the one hand, and a slow-cooked accretion of images—and many a brilliant metaphor—on the other. Autobiography remains the most slippery of subjects whether one professes honesty or aims to subvert it by mixing fact and fiction. No wonder, then, that the opening of the volume's first poem announces, "We're headed for empty-headedness." The line invites us to wonder about what it means while also suggesting something dodgier. The setting is "the hot Nevada dark," a line that aptly taps into various senses and registers simultaneously. However, Emanuel holds the shifting topography and semantics of these poems in check. "This is the wonderful thing about art. / It can bring back the dead," she writes in "The Sleeping." In just a few short stanzas, this fine poem illustrates another of her preoccupations: recreating the past in order to humanize it. Along with the other characters—the speaker's father and a whole slew of American and French poets and artists—that populate these poems, the mother is a part of what, like any landscape or myth, "begins to come around, distant yet familiar" (from "Of Your Father's Indiscretions and the Train to California").
"Frying Trout While Drunk," a poem that manages to stay cool despite the subject matter that is anything but, is rightly celebrated as a great poem, but there are many others in this collection that testify to Emanuel's mastery. Her chosen vantage point of looking at the world "through the drapes" is both noir and illuminating. Sorting and sifting through the flotsam of her own life, the poet breaks the impasse of living with accepted truths and aims to reach "the beginning  of the story" by rewriting it. Indeed, "[l]ove is boring and passé," she writes at the onset of "Blonde Bombshell," and then drives her point home with something straight out of Hopper, if he were asked more pointed questions about his characters' melancholy:
She is everything spare, cool, and clean,
like a gas station on a dark night and the cold
dependable light of rage coming in on schedule like a bus.
Consequently, these poems win respect because they're both hard earned and studied. Histrionics have been momentarily muted in order for the poet to dissect and learn something new about herself and her world.
In the midst of the personal tumult and philosophical exploration, Emanuel doesn't forget that her chosen medium of expression is poetry, an art that lives on and off language. Appropriately her poems are full of brilliant images, including, my favorite, "toenails like tiny television screens." She elevates the small in order to fill in the blank spaces in the dominant narrative, be it personal or societal. The "without" informs the "within," referred to figuratively as "interior decorating," and vice versa. When she writes:
I have always wanted to be a car, even
though most of the time I have to be
the "I," or the woman hanging wash
it is to show us how the physicality of something, in this case an automobile, a stand-in for strength and freedom, allows the poet to explore her hidden dreams and fears. In another poem she slams on the metaphorical brakes and notes how they "squeaked like a jar lid / coming loose." Now that the truth is out, the cleanup, both personal and ideological, must commence even at the risk of being branded disloyal or obnoxious. But since Emanuel already self-incriminates—as daughter, lover, and artist—any witch-hunt can only help extend her project of mining her autobiography and America's various ideologies.
Keeping in mind Emanuel's desire to subvert time's hold on her sense of the self, it seems unnecessary for anyone to go through this book trying to figure out when the poems were first published and why they might be placed in the second or the third of the book's five sections. Everything we've come to expect from this poet is here, including a handful of the Dogg poems, from her second-to-last volume, with their upbeat vernacular. Appropriately, Lynn Emanuel, having taken us on a roller-coaster ride through the nooks and crannies of her world, disappears at the end. In "Then, Suddenly—," a poem whose title embodies her wish to undercut the entire project, she leaves us with:
A voice, soaring,
invisible, disembodied, gobbling up the landscape,
a cloud giving a poetry reading
at which, Reader, I have made our paths cross!
What more could we ask for?
Piotr Florczyk is the author of East & West: Poems (Lost Horse Press, 2016), a collection of essays, Los Angeles Sketchbook (Spuyten Duyvil, 2015), and a chapbook, Barefoot (Eyewear, 2015). He has also translated and co-translated several volumes of Polish poetry. He lives in Los Angeles.