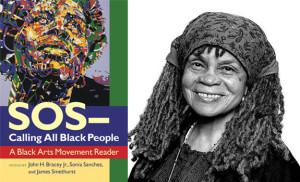 The New Orleans Loving Festival presents an evening with Sonia Sanchez along with contributors to Mixed Company from 6 – 8 p.m. on Saturday, June 13, at Le Musée de f.p.c. (2336 Esplanade Ave.).
Sonia Sanchez is an African-American poet most often associated with the Black Arts Movement. She has written more than a dozen books of poetry, as well as plays and children's books. At 80, the indefatigable writer is still fighting racism, sexism, violence, poverty, and oppression while she continues to mesmerize audiences with her verse around the world. She will discuss a new anthology she co-edited, SOS—Calling All Black People: A Black Arts Movement Reader.
The Stella Jones Gallery and contributors to Mixed Company Kristina K. Robinson and Jeri Hilt will host Sanchez alongside the Loving Festival for this event. Mixed Company is a collection of fiction and visual art written, edited, and designed by women of color in New Orleans, offered as an expression of contemporary Black thought.
This event is free and open to the public. Seating is limited.
The New Orleans Loving Festival—an annual, multifaceted artistic celebration of interracial harmony—takes place this year June 5 – 13 at locations around the city. Visit their Facebook page to see more events.