What We Ask of Flesh, by Remica Bingham. Etruscan Press, 2013. $14.00, 85 pages.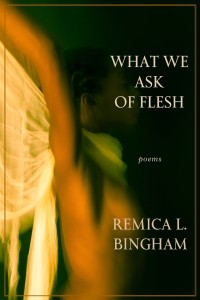 When we think of flesh, we think of the body, yet Remica Bingham asks us to reconsider the singularity of such an initial image. What if, for instance, the body was torn?  What if its pieces were sent to the twelve tribes of Israel? What if a body refused to birth? What if it was scorched in three hundred degree oil? What if it failed? What if it burned with passion?
Bingham's second book of poetry, What We Ask of Flesh, invites a wide array of women to give voice to their lived experiences. The first of many such testimonies is a multi-sectioned poem, "The Body Speaks." Here, the concubine from the book of Judges keens for women throughout history who are
hewing their places among the reluctant—
truculent and double-tongued—
desiring flesh
and damning it. (11)
In this elegy for women's broken bodies, flesh becomes the site for longing and sin, desire and destruction. As the body is torn into pieces, those pieces are given voice, given a prayer: "The next time / we are sent to this earth / we want no part of this body" (18), the collective female narrator roars.
the next time
we are here, if we must be here,
we want to remember
nothing  (18)
Yet Bingham continues to make space for women to remember, to testify, to break their silence. Even the arrangement of the poems themselves lends to a sort of dialogic collective memory. What We Ask of Flesh moves seamlessly back and forth between free verse and fixed forms. A perfectly-ordered ghazal is followed by a short-lined, unpunctuated Clifton-esque poem with such wrenching lines as "Say clitoris and name it clean / say wet     not cyst    say slide / not slight    not slash" (9). Here, through call and response, the sections speak to each other in form and subject matter.  The result is a simultaneous celebration of, and mourning for, the female body even as it is wrenched into pieces. Bingham ends "The Body Speaks" with an abecedarian, the final line of which chides, "Zion was a witness. Journey home, let the body speak" (21).
And journey home she does, beginning section two with a powerful list poem, "Things I Carried Coming Into the World." Again, the reader is reminded that the body is not our own, that, particularly as women, we carry with us the pain and triumphs of generations past, the "…the guilt of my grandfather's mistress" (25) or "…Jesus and all / his demands; soft hands" (25). In one of the most moving sections, Bingham recounts years of racial despair, weighing down the bones:
the cleft a loss in 1967 creates
when a mother of mine
two mothers removed
is left broken on the sidewalk
after a drunk white man
jumps the curb
in the colored neighborhood (25)
In another haunting poem, "What We Ask of Flesh," we hear the start and stop of a story unfold, the narrative of a toddler who steps in a pan of cooking oil, scalding her feet with third degree burns:
Her mother always begins the story
the same way
I was just trying to feed my kids,
we didn't have a stove  (29)
Through careful point-of-view choices, the narrator is at once the mother and the wounded daughter, as well as an outsider looking in.  This is a poem of regret and self-blame, of an individual mother and an individual daughter, yet it is also the story of all mothers who try and try and come up short, who find their daughters shrieking in pain at the world.
Yet Bingham again manages to hold the paradox of the body. The feet are lovingly bandaged with gauze, a salve applied, a mad hope restored. Bingham constantly reminds us that we are made of both flesh and a fierce spirit, that when one fails, the other can be called upon. In all things, we as women are ultimately bound (and freed) by our bodies.
In the final section of the collection, Bingham further examines the concept of "body." In "Something Divine Let Go," the flesh of lemons becomes a form of grace for the narrator's grandmother, who wears herself thin caring for others (47). In "The House of the Ten Plagues," the gadflies crave flesh (53). In one particularly dark and craving line, the gadflies explain their appetite, saying, "Your God is hungry, and must be fed" (53). Bingham seeks a different god, one who is less solitary and unfeeling, one who empathizes with women's collective experiences.
The author realizes that even she cannot speak from a singular body. Instead, in section eleven of "The Body Speaks," Bingham evokes the voices of a multitude of female poets by juxtaposing individual lines from their works in a unified, yet diverse, female collective. She emphasizes the varied perspectives of women of color in particular, asking Gwendolyn Brooks, Natasha Trethewey and Ntozake Shange, among others, to share the same poem, the same page, the same body, even if just for a moment.
Remica Bingham asks much of flesh. She asks it to sing of its scalding pain, to cry out against a god who would require a concubine's death and dismemberment. She asks it to remember the taste of lemons, the quiet humming of bees, a mother's advice, a grandfather's secret. In exploring the body, Bingham not only questions her own flesh, but ours as well, spurring women to rise up and speak of desire, of pain, of the parts of flesh that have been stolen from us and sent out to the ends of the earth.