I was delighted to get ahold of a Zachary Lazar's latest novel, Vengeance, a book that takes readers deep inside the horrors of the prison-industrial complex, where we cannot, in good faith, look away. We begin in the notorious Angola Prison, in rural Louisiana, where a writer meets a man named Kendrick King, who is stuck in prison for life. But the facts of his case don't add up. Perhaps Kendrick is innocent. What follows is a hair-raising detective story of sorts, in which the highly-conscious storyteller attempts to get to the bottom of the decade-old murder case by interviewing key witnesses, poring over interrogation transcripts and newspaper reports, leaving the writer as uncertain as ever. This is as much an investigation of our criminal justice system as it is the story of a man's life—of two lives, in fact—the man in prison and the writer who has dealt with his own personal tragedies. The storytelling is harrowing and compelling all the way through. It is lyrical at times, terse elsewhere, and like with any good novel, the reader is left with lingering questions. I couldn't wait to hear what Zachary had to say.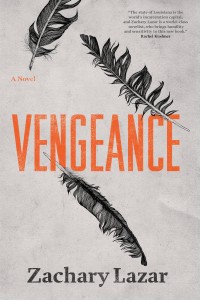 INTERVIEWER
From your second novel, Sway (which takes place during the tumultuous Sixties) to the most recent novel, Vengeance, your work tends to have a socio-political bent. You situate your characters firmly into a historico-political context, foregrounding that context very explicitly. Is this a fair description of your approach to writing? How much do actual world events and/or social realities matter to you vis-à-vis the particular characters you write about?
ZACHARY LAZAR
As a novelist, I want to depict how life works on this planet, and I think we are largely created by the time and place in which we live. Sway was my way of trying to ask why certain ideas and emotional experiences that were available in the 60s are no longer available to us now. I was born in 1968. What have we lost as a culture since then? I Pity the Poor Immigrant was an attempt to understand Jewishness in the 20th century, how it was stigmatized obviously by the Nazis and others but also in the U.S. and eventually even by Israel, post-Occupation, which means that no Jew, if honest and self-aware, gets to just be an individual.  You are an individual within a context. Groups of people are marginalized in certain times and places in order to make other groups more powerful. In Vengeance, the central character, Kendrick King, is in prison for life for a crime he probably didn't even commit, because in the U.S., throughout its history, skin color alone can be enough to deprive you of your freedom, your individuality.
None of this top-down thinking works in a novel unless it is rooted in narrative and characterization: unique individuals doing and saying interesting things in a dramatic story. I don't want to write didactic or programmatic novels. But if a novel isn't aware of or interested in its own historico-political context, then I think I would have a hard time reading or enjoying it.
INTERVIEWER
How did the idea for Vengeance manifest?
LAZAR
I went to Angola prison in 2013 as a journalist to cover the rehearsal and performance of a passion play, "The Life of Jesus Christ," with my friend, the photographer Deborah Luster, whom I had only recently met and who invited me to go along. Both Deborah and I had a parent who was murdered. Both murders happened in the same city, Phoenix, Arizona. They were both contract killings. We now live two blocks away from each other, in New Orleans. It was an implausible coincidence, in other words, that brought me to Angola. Deborah and I spent a week at the prison, spending the night in guest facilities and having our meals with inmates or prison administrators. By the time we left, I had accumulated an enormous surplus of stories. It will sound simplistic and obvious, but racism was an inescapable part of these stories. The form of Vengeance began to take shape when I was confronted with the problem of writing fiction, which is what I do.  It seemed to me that I needed to be in the novel myself, even though it's fiction, in order to talk about why I was writing such a book and to examine my position as an outsider in the world I was depicting.
INTERVIEWER
A quote by the famous photographer Mary Ellen Mark appears more than once in the novel: "You have to feel a situation; not hurt someone, not aggress someone to the point that it's obnoxious, but accept the fact that you're a voyeur—you're stealing something from people." The narrator is wondering, among other things, how to justify inserting himself into the life of the subject he has become obsessed, Kendrick King. In response to this quote, he writes, "I knew if I ever started writing about Kendrick, he would become a 'character,' I would become a character, and these likenesses, no matter how grounded in fact, would be fictions, approximations, versions among other versions." For a reader reading this book it is very tempting to read this as your (that is, Zachary Lazar's) personal view on this issue. Are these ideas you personally subscribe to? Is this a clue to the best way to read and understand this novel, as a "fictionalization" of real people and events?
LAZAR
I think answering this question would damage the book. I've become a "postmodern" writer, not because I set out to be that way, or because I studied postmodernism in college or something, but just by temperament. I never wanted to be a "postmodern" writer and yet I have felt the need to be indeterminate about certain things because I feel that it's honest. I wish more people interrogated themselves as much as I and my books do.
INTERVIEWER
Because the form of the book at times resembles a nonfiction work (a personal investigation of sorts), but the book is advertised as a novel, the reader is encouraged to celebrate the blurring of fact and fiction. But because the subject matter deals with the devastating underside of the American criminal justice system—which at times seems in part designed to put young black men behind bars—mistaking fact and fiction presents a particular challenge for a reader: do we celebrate this blur or not? What are your thoughts on how a reader might view the particulars of the case that occupies much of this novel?
LAZAR
I wrote the book before the last presidential election and the widespread popularity of the phrase "fake news," and I certainly wouldn't celebrate any of that. But I think the line between fact and fiction has been plenty blurred in the actual world for a long time now and I'm just responding to that world as it is. I grew up under Ronald Reagan, master bullshitter.  I've been writing about the problem of fact and fiction in book after book, not out of some perverse desire to muddy people's perceptions, but to ask questions about why and how we think we know things. With Vengeance for example, I hope the book doesn't make right-thinking, liberal readers feel comfortable in their views about race and incarceration. I hope it makes them uncomfortable, as it did me when I was writing it. Complacency is part of the problem. But to be clear about the question you ask: there are facts. Facts are not in dispute. I have been surprised by people who have read Vengeance and said they're still not sure if Kendrick is telling the truth or not. My point is that if you aren't sure, then you still have to accept that Kendrick doesn't belong in prison.  (This is to say nothing of the many people who don't belong in prison who are "guilty" as charged but whose live are so much more than that "charge.")
INTERVIEWER
There seems to be a "true-crime" explosion in recent years, particularly on screens, from HBO's The Jinx to Netflix's Making a Murderer? What are your feelings about this genre of nonfiction? How, in your view, has true-crime informed hyperrealist crime fiction?
LAZAR
Crime is glamorous. I was just walking around in Manhattan last month and there was a huge apartment building on the Upper West Side that had recently been renovated and renamed The Gatsby. The idea that Gatsby, a gangster and a fraud with a drawer full of tacky shirts, is something people aspire to be, goes a long way toward explaining why we have the president we have. I have been trading on the glamor of true crime in my books for several years, though my books are always a critique of that glamor. But let's face it, many of us, myself included, enjoy finding out other people's dark secrets, and the more specific and detailed, the more intriguing. Power and crime are very close cousins, and for those of us—almost all of us—who have no firsthand experience of political or economic power, crime narratives give us some kind of imaginary access. True crime informs crime fiction by revitalizing it, making fiction try harder to give us a sense that we are hearing the "real" secrets, the real dirt.
INTERVIEWER
I came to see Vengeance as part of a long tradition of books that blend fact and fiction, such as The Things They Carried by Tim O'Brian and the six-volume novel, My Struggle by Karl Ove Knausgaard. Did those books or similar ones influence this novel? What writers are you excited about right now?
LAZAR
I was thinking of Joseph Conrad's Lord Jim when I first got started, the way Conrad uses a first person narrator for what ends up being a story that has almost nothing to do with the narrator. Joan Didion uses these complicated Conradian narrators in her novels, which are among my favorites. I was also thinking of Philip Roth's Zuckerman novels, though I thought, I'm not even going to bother to give the narrator a different name, just make him "me." I really can't understand the Knausgaard phenomenon. I tried reading the first volume of My Struggle and it was like reading Tobias Wolff's This Boy's Life in super-slow motion—I understood the no-nonsense ethos but I didn't give a shit.
INTERVIEWER
What kinds of unique challenges did writing Vengeance present?
LAZAR
Writing black characters as a white person; depicting a white narrator in black spaces; depicting a white narrator imaging black characters from those black characters' points of view. Writing across the racial divide is rightfully challenging because if you do it badly you end up enhancing the divide. After I went to Angola with Deborah Luster, it was up to me whether I wanted to write about what I saw or if I was just going to cop out. I thought it wasn't a good idea to cop out.
INTERVIEWER
How did you feel Vengeance was set apart from your previous books?
LAZAR
I feel like it is very much in line with the last three books, Sway, Evening's Empire, and I Pity the Poor Immigrant. Each one of those books leads into the next one: the problem of violence, the problem of telling stories, the blur of the imaginary and the real.
INTERVIEWER
What is next for you? Is there a novel or nonfiction book in the works? If you don't like jinxing yourself by speaking about such things, I understand completely.
LAZAR
All I will say is that part of it will be set in Mexico and that, for a change, I want this one to have some funny parts.
Jason Christian was born and raised in Oklahoma. His fiction and essays have appeared in Atticus Review, Cleaver Magazine, Vol. 1 Brooklyn, and elsewhere. He is currently an MFA candidate at Louisiana State University and Nonfiction Editor at New Delta Review. He lives in Baton Rouge.