Alex Marzano-Lesnevich
is the author of 
THE FACT OF A BODY: A Murder and a Memoir
, which received a Lambda Literary Award, the Chautauqua Prize, the Grand Prix des Lectrices ELLE, the Prix des libraires du Quebec, and the Prix France Inter-JDD. It has been translated into eleven languages and is in development with HBO. The recipient of fellowships from The National Endowment for the Arts, The Eccles Centre at the British Library, the Heinrich Böll Foundation, MacDowell, Yaddo, the Bread Loaf Writers Conference, and the Maine Arts Commission, as well as a Rona Jaffe Award, Marzano-Lesnevich has written for 
The New York Times
, 
Harper's
, and many other publications. They are an assistant professor of English at Bowdoin College in Maine. Their next book, 
BOTH AND NEITHER
, is a genre-and-gender-bending work of memoir, history, cultural analysis, trans re-imaginings, and international road trip about life beyond the binary. Excerpted in 
THE BEST AMERICAN ESSAYS 2020
, it is forthcoming from Doubleday and publishers internationally.
***
NEW ORLEANS REVIEW

What are your expectations from director Jeremiah Zagar? He's well-known for his drama We the Animals and the upcoming Adam Sandler movie, Hustle. With his work in mind, how do you think he will bring your memoir to life on the small screen?
ALEX MARZANO-LESNEVICH
Jeremiah's first movie, In a Dream, was a documentary about his family. When I watched it, I was moved by his approach and the respect with which he treated every character, every person, and the layered way he told the story, the space he made for complexity. I think that sometimes we have an urge in the Western narrative to simplify things into an arc, resulting in flattening people. It was something I tried not to do. While writing The Fact of a Body, I tried to bring each person's complicities and complicated perspectives to life. 
I was moved by the way [Jeremiah] did that in this movie about his family, even more so that he had made a movie about his family. I felt while talking to him that he understood how emotionally complicated doing that can be. He understood how complex it is to tell the stories of families because there are, of course, multiple families involved in The Fact of a Body. That's the sort of content that I knew he treated with emotional nuance, depth, and integrity.
But there's also a visual level that begins with In a Dream. You can see his relationship to color unfurl, and the colors and imagery are visually saturated. His father is a fantastic tile artist, so he had a lot of beautiful visuals to work with that were incredibly provocative. That's always been one of the things I respond to most about We the Animals, the way he created it. A colorful story, and the images that carried so much of the emotional weight of the piece. He did a beautiful job with it. It's a book I love, and I thought he did a beautiful job with the adaptation. I haven't seen Hustle yet, but I'm sure it's going to be great. I'm hoping that's what he brings to The Fact of a Body, but I also want him to bring his own sensibility to it. As an artist, what a profound privilege to hand over your work to another artist and see what they do with it in their own medium, recreating it in their own way.
NOR
In The Fact of a Body, you illustrate many of the moments leading to the murder as if you were experiencing it yourself. Using the case files as a base and without straying from facts, you still embellish the narrative with private conversations, facial expressions, emotions, and other artistic qualities. Thus, how will it feel to have another artist, in turn, take your life story and reframe it through their lens? Does it frighten you into giving away such liberty over your experiences and creative work?
MARZANO-LESNEVICH
It doesn't frighten me because We the Animals was also highly autobiographical, and I admire what he accomplished with that. I know Jeremiah, and we remain quite close. With other artists, I was more concerned. There were other deals that I did not pursue or pulled out of because of concern over how people were talking about the characters, because it's not just my family I'm concerned about. It's also the Langley family; it's also the Guillory family.
It was the [particular] respect, concern and care for this project that Jeremiah took in our conversations. When they pitched it to HBO, they made a slide deck to pitch it. It captured something of how they saw the characters and the visuals of the story and structure. I had a thrilling mini-taste of what they had in mind. That went a long way to reassure me. I feel in excellent hands with Jeremiah.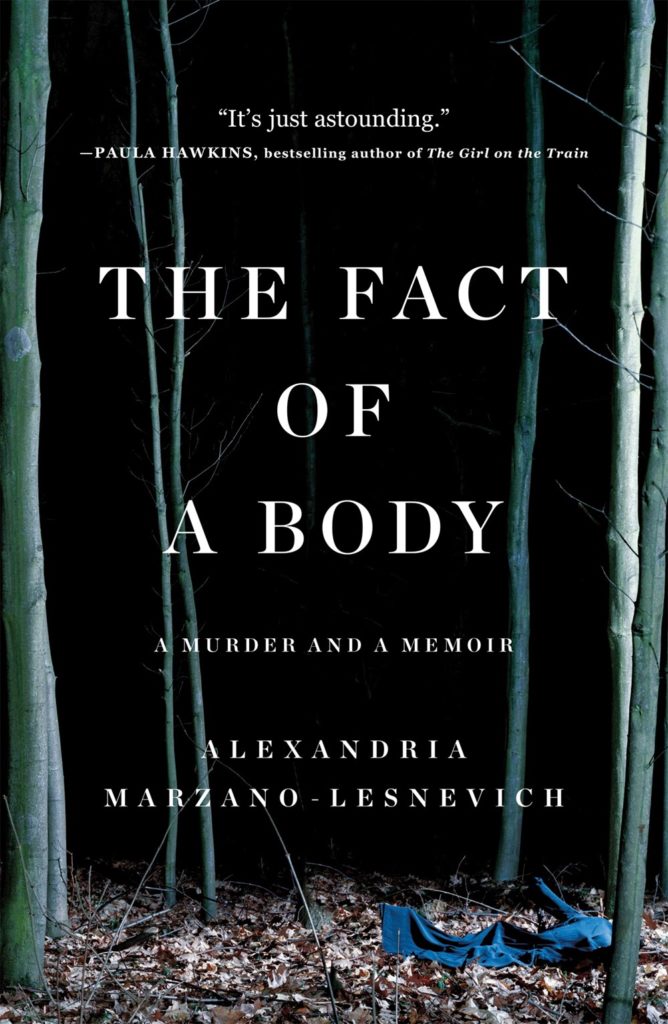 NOR
What made you decide to go forward with this adaptation for HBO? Since releasing your book, had you always considered it a possibility before the television deal was proposed, or did it come along more as a surprise opportunity?
MARZANO-LESNEVICH
I wrote most of The Fact of a Body when I read the court records. While I read 30,000 pages of documents, the thing that kept striking me was how visual they seemed to be. The scenes that unfolded in them seemed to play out in front of me, like fully-formed memories. It's why I wrote so much in the present tense. I feel like memory always happens in the present tense, as trauma replays in the present. 
I'm someone who has to be nudged to pay attention to the visual. I'm often lost in my own thoughts. So I wrote much of the book with a sign over my desk that encouraged me to "write what the camera sees." I was constantly nudging myself to have this visual perspective because I wanted the reader to be inside what, in fiction, is called "the fictive dream" of the story. If I wanted them to be unsafe inside the unfurling images, I had to give them those images. Given that I wrote it in mind with [what] the camera sees, I certainly imagined that somebody might like to put a camera to it.
A grad school mentor of mine told me they could see the movie unfold. Initially, though, it was a hard one to get people to take on. My former agency took it to a movie studio and got repeatedly told, "this is too dark." There's so much sexual abuse in it, and this was before #MeToo. In fact, one of the studios who said that was the Weinstein studio. Of course, we all know what happened in the years following that. But the public discourse changed at some point, and people realized that these stories were not so uncommon. In fact, they learned how important it was to tell. You have to tell stories of sexual trauma because so many people have been through it. When that pivot happened, people became more interested in adapting it.
The way Jeremiah got hold of it was happenstance. A former mentor of mine from graduate school [who] is also a former professor of Jeremiah's told him, "You gotta read this book, you gotta read this book." Jeremiah didn't reach out to me at first. Initially, he felt very strongly that someone queer should make the story. But after sitting with the story for six months, he finally emailed me and said, "Look, I'm still not sure about that, but I can't stop thinking about it. So maybe that's something." When I got the email, I was thrilled because I was familiar with Jeremiah's work. I had gotten close to signing deals with several other people, but I didn't because I hadn't felt like the work was in good enough hands. But the prospect of Jeremiah being interested really shifted that for me. We had a lot of conversations about structure, tone, and approach before we ever signed anything. I got to know a lot of his vision and his excitement. It was fun to get his phone calls when he was on the set of Hustle with his ideas and thoughts. That really changed my feelings and got me more excited.
I had always thought of adapting the book as a movie because when I was working on it, the short-form series that are huge now were not a big thing for adaptations at the time. But I remember thinking, "I don't see how anyone will tell this in two hours." Jeremiah pretty much right away was interested in a television series. He has a development deal with HBO, which meant bringing certain projects to the table. So this became one of those projects. 
NOR
While reading your book, several images remained with me. The visual of Bessie in a full body cast after the accident, discovering she is three months pregnant with Ricky, is one such image that deeply shook me and likely many others. What image do you expect to leave these impressions in the adaptation, maybe even more so when presented on film?
MARZANO-LESNEVICH
The BB gun. The camera can do a lot to remind the audience of what the characters themselves don't notice. That moment when Laura, Jeremy's mother, walked into the house where her son's body was hidden and did not notice the BB gun that belonged to him. To me, that's incredibly evocative. It haunted me, and it was part of what made me realize that I had to write the book. When you approach something journalistically, only the facts that matter make it in. And the BB gun is not a fact that matters. It's just a child's toy, and it was discarded. People didn't even notice it at the time, but it's such an evocative detail in a storytelling sense. 
I think a lot about the novelist Charles Baxter, who has a wonderfully crafted book called Burning Down the House: A Book of Lectures. In the book, he has a lecture on deep familiarity and talks about those kinds of moments. He calls them "widowed images" that stay in your mind and come undone from the size they're "supposed to be in the narrative but acquire this like sticky specificity." They're the kind that haunt you, and the BB gun was one such moment for me. Of course, the cast — for the writers reading this interview, if you're interested, Benjamin Percy in the book Thrill Me talks about that idea as a way to think about structuring narrative and prose narrative, as well as movies. That was a concept I used a lot when writing the book. I thought about what those images were and how to situate them across the arc of the text to haunt the reader. Because, of course, anything that you give the readers early in the book, they're going to carry with them through the rest.
So I'm glad that the cast stayed with you. 
NOR
With the prolific popularity of true-crime series, do you expect the Jeremy Guillory case will become a hot topic among true-crime fanatics and podcasters?
MARZANO-LESNEVICH
 I have no idea if it will, and I sincerely hope it doesn't. I don't enjoy true crime. So much of it is written with a salacious eye. So much of it forgets that there are real people involved. The fact that I don't enjoy true crime is part of why I put Jeremy's death upfront in the book. I didn't want to use it as a source of suspense. I didn't want to pretend that we didn't know who had killed him. [I wanted] none of the cheap shots that one can think of as a hallmark of poorly written true crime. But I am a big fan of much critical discourse around true crime right now. 
I can't say that I'm a fan of true-crime podcasts or shows. However, there's a lot of good, critical literary work. The writer, Rachel Monroe, comes to mind. She asks what true crime does, what the crime is for, what the project of true crime is and how it's possible to be ethical about complicated stories in crime. As human beings, we are drawn to writing stories about crime because these are emotionally heightened moments when humanity is put on trial, and our passions, violence, love, and beliefs collide. These are the moments that make for a great narrative, but how do you do that ethically? That was something I thought a lot about while writing The Fact of a Body.
NOR
Finally, what is the message you hope to convey through this series? Does it differ from your original goal of writing the memoir?
MARZANO-LESNEVICH
Well, of course, I don't get to convey any particular message through the series. That's going to be Jeremiah's to run with and the screenwriter, Astro Ref. Astro just came on board, so it's going to be exciting. She's a black, queer woman and a lawyer who worked in New Orleans. I'm excited about what she brings to the table and the story that they create with the book. Because as I said, as an artist, it's a great gift to see what another artist does with your work.
Right now, I've got my second book due, so my attention is all about the story I'm telling in that book. I'm in Berlin as we do this interview, researching that book. I wouldn't necessarily say there's a particular narrative I'm trying to tell with the series. But with the book, my intention was to make us think about how we carry stories from the past and how we tell stories from the past, in public life, through the legal system, through the medium, and in families.
I wanted to answer [these] questions: how do you tell a story about your life that is not simplified but holds room for complexity and duality? How do we do that in the law? How do we do that in society? How do we become more comfortable with the complexities of the past? How do we become more honest about them?
---
Hayden Williams is a queer fiction writer with a focus on trauma narratives. She is an undergraduate at Loyola University New Orleans studying English Writing and Editing and Publishing.
+++This interview was edited for length and clarity