I've returned to the South of France many times since I spent the better part of a year in a village outside of Aix-en-Provence more than fifteen years ago. I never visited Cézanne's studio, his atelier, though many locals recommended it when they learned I was a painter. Before living in the south of France, I understood Cézanne was an important painter, but I was not particularly drawn to his palette or distinctive brushstroke. After I left, in the years that followed, I found myself full of feeling when I looked at Cézanne's landscapes. I have not been certain if this feeling is admiration or nostalgia, or both, or something else. This summer I decided to finally visit the Atelier Cézanne in Aix-en-Provence.
A few years ago, my sons, their dad, and I stopped at Monet's gardens in Giverny on our way from Normandy to Paris. Our hosts said we shouldn't miss this site and it was pretty much on our way. So on a Saturday afternoon in July we pulled into the crowded parking lot. Pilgrims of Impressionsim flowed from the cars to the entrance of the garden some of them wearing straw bonnets. The admission line gave way to a dense procession snaking through the grounds, stopping if someone paused on the narrow path to take a picture. If I had had a fantasy of strolling through a real-life version of a Monet painting, it would have evaporated just inside the entrance. It was impossible not to feel cynical watching visitors pucker for selfies, backs turned to the lily pond or to see the famous green Japanese bridge overstuffed with people. This morning I clicked through the same garden on Google Maps, the visitors were less prominent in the slightly elevated viewpoint; they were frozen, silent, and blurred. I could appreciate the palette and splendor of the street-view garden. Not even halfway through Monet's garden, we turned around and headed, contraflow, toward the entrance saying pardon, excuse me. We left, our moods bruised from the experience. My son now calls Giverny "that overrated garden." I tell him that maybe it's better in winter when it's less crowded. The truth is, I don't really know why we were there.
I assured my sons, now 11 and 14, that the tour of the Atelier Paul Cézanne would not take much time. I parked semi-legitimately in front of the Pharmacy Cézanne, closed until 2:30 for lunch. On the side of the pharmacy was a version of Cézanne's Montagne Sainte-Victoire, maybe ten times the size of the original painting. Walking to the entrance of the atelier, I realized I should have reserved tickets, but we got lucky: three spots had opened up in the next self-guided tour. People milled about in the garden, reading signs, taking pictures, standing in front of the misting fan as the region was in the middle of a heatwave. What are we doing here? I thought as I took photographs laced with irony. The sunlight on the ground coming through the leaves was pretty. It looked more like a Monet than a Cézanne.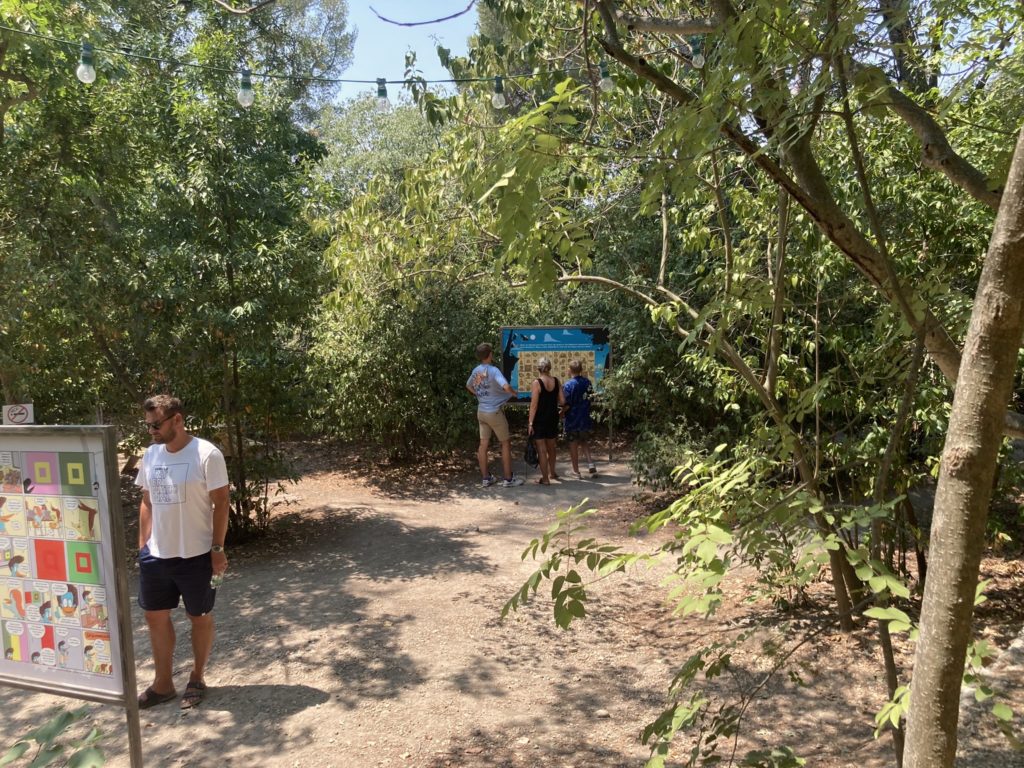 Someone announced in French and then in English that the 1:30 tour was about to begin. Twenty visitors, including my sons and I, filed into the small house, past the gift shop, and slowly up the narrow staircase. I declined the audio-tour headsets but took information cards. I took a picture of the cards thinking maybe I would read them later. I wouldn't. The whole tour took place in one room and that room felt nothing like a painting studio. In an artist's studio there is work is in progress and the exciting smell of paint. People circled the room looking at objects, books, three skulls, drawings I'm not sure the artist would want on display. There were apples set out on a table with a white cloth, inviting visitors to imagine the artist studying them as he painted. I wished I could see the staff changing out the wrinkled apples for fresh ones. It would be almost a performance, I thought. I looked out the window to escape the feeling that all of this was absurd and had nothing to do with my love of painting or the paintings of Paul Cézanne. What are they looking for here? I wondered. "We can go now," I told my sons and we were back in our car well before the pharmacy reopened.
When I moved to France all those years ago, the friend I lived with told me that Cézanne just painted the landscape as it looks. The light in Provence appears to come in striations that Cézanne saw and recorded in rigid brush strokes. The colors of everything are sun-faded, the landscape rocky, eternal, a place needing nothing, a place confident it will outlive all of this. Cézanne's paintings of apples are fine, but his landscapes make homesick even though this place is not my home. I am no closer to understanding why people visit dead artist's studios or homes or gardens. I don't understand the lure of "Immersive Experiences," which seem like the creepy clown version of art as entertainment. I don't even really understand why or how a painting moves me, though I would describe the feeling of looking at Cézanne's House of the Hanged Man as immersive.
This summer, my first night back in the South of France, I walked up the familiar road, a place I have witnessed all these years, a place that has witnessed me. I was taking pictures of a derelict tennis court I photographed the first winter I was in Provence and painted it some years later. A woman appeared on the road and said, "Bonsoir." I said hello back and then told her that I had painted this spot and the light through the trees was just as beautiful as I remembered it. We introduced ourselves. Ghislaine was her name and she invited us, my sons and I, to walk across the property and to see how she and her husband, Pierre, were renovating the tennis court. I stifled the little grief I felt about the change but no matter; it would be better for tennis now. She said that one could see Monte Sainte-Victoire from her garden on the other side of the house and that we were welcome to come again some evening for a visit to see the view. I said, Avec plaisir. But the days of our holiday passed and we failed to meet again.
I don't know why people visit art attractions. Sometimes I'm even a little confused in museums or galleries if I'm having a strange day. What am I looking at? What am I looking for? Sometimes in front of art I feel nothing at all. But I know for certain that living a life close to art––looking at art, sketching, painting, having artist friends, visiting studios, talking about paintings with strangers––all of this makes life deeper, richer, and more vivid.
I was seated on the plane heading home when I received by text Ghislaine's invitation to come see Sainte-Victoire that evening. La prochaine fois, I said. Next time. It has never been so hard for me to leave a place than it was for me to leave Provence this summer, which has little to do with Cézanne. Or maybe it does. When I landed in New Orleans there was another text message from Ghislaine, a photo with the words La montagne Sainte-Victoire vue chez nous. Next time.