Harold Jaffe is the author of 26 volumes of fiction, docufiction, and nonfiction including Goosestep; Death Café; Sacred Outcast: Dispatches from India; Revolutionary Brain; Induced Coma; Anti-Twitter: 150 50-Word Stories; Paris 60; Jesus Coyote; 15 Serial Killers; Beyond the Techno-Cave; Terror-dot-Gov; Straight Razor; Eros Anti-Eros; False Positive; Beasts; Mourning Crazy Horse; Madonna & Other Spectacles; and Dos Indios. Jaffe's writing has been translated in Turkey, France, Spain, Romania, Japan, Italy, and Cuba. Jaffe is editor-in-chief of Fiction International.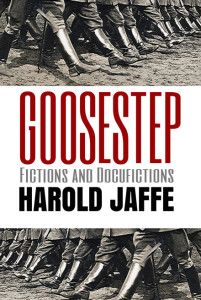 INTERVIEWER
In 2015, you released Death Cafe with Anti-Oedipus Press. That collection constitutes, among other things, a discerning critique of global pain, political hypocrisy, and death itself, which are, of course, not new to your work. With Goosestep: Fictions and Docufictions (JEF, 2016), however, your social critiques are framed much more intimately; one might say Goosestep is more transparent in its autobiography and that this makes it different from your last few books. Do you feel that Goosestep is a departure from DC?
JAFFE
Asked how he is able to comment so widely on literature and culture, Keats, in his early twenties and untraveled, responds "I become the sparrows hopping on my windowsill." I am Jaffe not Keats, but I too feel an affinity with sparrows, those still alive and hopping in our degraded landscape. This is one way of suggesting that I prefer to write about my inclinations in deflected ways. In Othello Blues I inhabit both Otis Crawfish and Iago. I inhabit Manco in Dos Indios. I inhabit Brando in Brando Bleeds. I inhabit Lee Wuornos in 15 Serial Killers. In Goosestep I write about myself a few times more directly, but I have done the same here and there before, as in "Orfeo" in Death Café and "Hurricane Carter" in Madonna & Other Spectacles, and the murdered young African American from "Persian Lamb," in Beasts. The quasi-autobiography in Goosestep, then, is not new, though readers have read it that way, possibly because the final text, "8," seems patently autobiographical.
A related factor is that my small triumphs and pratfalls in "real time" are meaningful only when I am able to transform them into one or another species of art.
INTERVIEWER
Artaud and Brando collide unexpectedly in "Artaud." They are bonded via spectacle, fanaticism, and melancholy. How did this come about?
JAFFE
I admire them for similar reasons. For similar anti-reasons. Like most humans I admire they are both of the tribe of Hamlet. Hamlet in extremis in the instance of Artaud.
INTERVIEWER
Goosestep's preface notes that the three-unit sequence containing Brando comes from your forthcoming novel Brando Bleeds. How does this sequence fit into Goosestep? Why did you choose these sections for this book?
JAFFE
"Fit" and coherence have been fetishized in imaginative writing, but they don't compel me. In most instances I prefer spars jutting, as in the buttresses of a gothic cathedral, or the cantilevered steel sculptures of David Smith. The Brando sequence appealed to me and the texts were self-contained. Moreover, Brando's resistance and (as I see it) "shamanic" response to official culture are applicable in Goosestep.
INTERVIEWER
Brando is portrayed almost hyper-viscerally in these three sections. For example, in "Hair," Brando entertains a sexual encounter with an obsessed, suicidal crank caller who wants to eat his "sacred body." After devirginizing the young woman, Brando questions, remorsefully, "How could I seduce a girl who dried my feet with her hair and wanted to eat my sacred body because she saw me as Jesus?" Is his "shamanic" quality illustrated through his physical passions?
JAFFE
In good part, yes. Though somewhat obliquely in passages from "Hair," which is one of my extrapolations about Brando. In real time, it's his getting fat and ugly. His transvestite extravaganza in Missouri Breaks. Stuffing his cheeks with cotton balls in The Godfather. These physical alterations permit Brando to play his role at one or two removes from the usual renderings of the other actors. It is satire, of course, but it also points to Brando's attitudes to Hollywood, to the world, and fundamentally to himself, his potent self-loathing. One sees this clearly in Last Tango, where Brando improvises nearly all of his lines, which are bitter and scathingly comical. In my novel Brando Bleeds, I have him alone and terminal in his hospital room, morphine in his veins, reciting his life. His final words are "I lived a useless life." But are those Brando's "actual" parting words? I dreamt them so they must be.
INTERVIEWER
What do you mean by "I dreamt them so they must be"?
JAFFE
"Mere anarchy is loosed upon the world / The blood-dimmed tide is loosed, and everywhere / The ceremony of innocence is drowned." Yeats envisioned it.
Now that it is here someone has to enact the role of Tiresias, the ancient, blind, prophetic dreamer. I invoked Brando's Stanislavski to lend me a hand.
INTERVIEWER
Is that how you inhabit those disembodied voices so characteristic of your writing? Through method acting? How easy is that for you? Can embodying the debased, disaffected, or dehumanized be problematic at times?
JAFFE
No, inhabiting the variously dispossessed has not been difficult for me. As I dramatize in "8," the final quasi-autobiographical text in Goosestep, I've always been drawn in that direction, and the variously dispossessed, or many of them, have acknowledged that in me. Yes, it can be problematic, as I indicate in the title story, where the male personage is silently rebuked by the troubled woman he wishes to salve.
INTERVIEWER
The use of repetition is complex in this book. Beyond formal device, repetition is used to link otherwise autonomous narratives. Repetition also links Goosestep to your previous books; it feels mantric—death, sexual deviance, dying planet, dreamspace, oppression, and compassion are some of the recurring or "repeated" motifs. Is this kind of intertextuality with your own work exacted during composition, or is it mostly an unconscious dialogue?
JAFFE
When I am writing well unconscious and conscious are unseparated, dreamspace and "real time" are integrated, so I let the writing write. Afterwards I see what I have wrought. Our dying culture functions as a palimpsest for me, with virtually every movement a repetition with variation from what I have seen, experienced, imagined. In our 2016 version we see a debased, even farcical repetition, because the globe is dying and an infinitely cruel, cartoonish mania has been set loose. I employ repetition, then, as a somewhat stylized mirror of how I witness the culture. You mention "mantric." The mantra-like repetition and tonalities were intended. With finitude or even apocalypse looming art-making is apt to take on a "religious" cast.
INTERVIEWER
Arguably the most powerful "stylized mirrors" in the volume, two pieces that reflect the dying planet and cartoonish mania set loose the most explicitly, are "Revenge Porn" and "Z is for Zombie." The former uses the "erosion" of official culture's temporal and spatial delineations to illustrate mass, erotic solipsism at its finest, while the latter satirizes Western society's fetishization of yet another cultural metaphor—and the subsequent commodification/appropriation of that metaphor as a norm. Is debased culture part of your audience here? What could acknowledgement of such reflections precipitate?
JAFFE
Is the debased culture my audience? Only if they are exquisitely debased. No, they are not my audience. Were I to be embraced for wrong reasons as, say, Beckett was to his chagrin, I would change professions, become a fisher of men.
INTERVIEWER
You have often said that you do not meditate too much on the order of texts, but beginning Goosestep with "Double" and its cutting series of dichotomies seems to dictate how to read this collection of texts. I found myself rereading many of them for inverse narratives. Can you comment on the placement of "Double"?
JAFFE
I may not meditate "too much," but ordering the volume does have importance both formally and as a pointer to how prospective readers should approach the volume. The recursiveness in the opening text "Double" is meant to serve as a template where authenticity and sincerity give way to simulacrum and soundbite without apology, no matter the consequences.
INTERVIEWER
The epigraph is not attributed to Rimbaud until the end of the book. Was this intentional? And how did you decide on "I am of the race who sings under torture."
JAFFE
In my last several volumes I've taken to saving attributions as an endnote because I don't want the original authors of the epigraphs and citations to interfere with the reading. "Singing under torture" is in effect what serious artists are compelled to do in our degraded time, without any expectation of an even remotely commensurate response. I address this notion in different ways throughout the volume. "Sacred Anguish" ends with "Make art unacknowledged. Embrace isolation."
INTERVIEWER
"Sacred Anguish" also includes the lines "Because the world debased by man is unsupportable, any deviation is notable"—notable, but not noted? Is that what you mean by "without any expectation of an even remotely commensurate response"? Does the singer make any sound on the stage before no audience?
JAFFE
I am paraphrasing Bataille's formulation on deviation here. I endorse it. The "deviant" singer will sing before no "live" audience—though ideally his/her song will be "heard" by the vegetable billions who are dead but whose collective pulse is more keenly alive than those accounted alive. The vegetable audience includes the artists I silently celebrate: Traven, Goya, Artaud, Neruda, Hikmet, Richard Wright, Meridel LeSueur, Frantz Fanon, Daniel Berrigan, Simone Weil…
INTERVIEWER
…as well as Blake, Kafka, and Brecht, or the remaining constituents of the vegetable audience mentioned in "Mockingbird," yes? This text was particularly evocative for me, partly due to its melancholy synthesis of Whitman's wound-dressing with the narrator's, partly due to the passage's haunting elegiac quality. Birds are a recurring motif in your writing; why are you drawn so keenly to them?
JAFFE
Without real—not simulated—wildness sharing our lives we are damned.
Birds are the closest most of us can get to wildness, and to witness the intricate elegance and poignancy of the winged brief-lived creatures is a privilege and blessing.
Now, inevitably, they are perishing. In December, as I am writing, there are usually 20-25 species that I see or hear in my wooded canyon, but for the last month there have been just three or four species. Extinction tends to proceed by degree, but that does not exclude the seemingly sudden near disappearance of birds in given areas.
INTERVIEWER
To what dreamspace/real time will your writing transport us next? Is another collection in the works?
JAFFE
My volume on India, Sacred Outcast: Dispatches from India, will be published in May by Anti-Oedipus. Somewhat like Paris 60, it is small part "travel" book, large part commentary and interrogation. I am not certain I ever emerged from dreamspace the entire time I was in India.
Tara Stillions Whitehead's writing has appeared in various journals, including Chicago Review, Red Rock Review, Texas Review, American Book Review, American Book Review, Fiction International, Columbia College Literary Review, Black Scat Review, and elsewhere. Her work has been nominated for several awards, including a Pushcart Prize for fiction. She currently resides in Central Pennsylvania, where she teaches film, literature, and writing.