Last month, the final exhibition at SHED on Poland Avenue closed. The founder-directors (and spouses) Gabrielle Banzhaf and Jon Gott are leaving New Orleans. But SHED isn't closing; it's shapeshifting. Though SHED was created in the backyard of their rented New Orleans home, they told me, the project was never limited to a certain geography. This makes sense and as Gabrielle, a curator, and Jon, an artist, have lived nomadic lives. Gabrielle spent her childhood in South Korea, Sweden, South Africa, and on a ship with her humanitarian parents. Jon, emancipated from his family as a teenager, traveled widely for years.
 
I spoke with Gabrielle and Jon at their kitchen table. They took turns trying to keep their two large dogs from licking my legs. This is how they roll, in tandem, at home, the projects of art, and family mingling. During the height of the pandemic, I became aware of several home-based, sometimes half-outdoor, bootstrap gallery spaces. Here in New Orleans, Wading Room was a six-month exhibition series in an Alvar Street garage. More recently, Sibyl opened in a massive space within a Riverbend home. In LA, there are CASTLE and The Cabin. In New York, there are Home gallery (where home is a concept rather than a dwelling) and Garageland. According to Jon, "Part of what we've been exploring with SHED over the past year has been our domestic space and how we put it to use."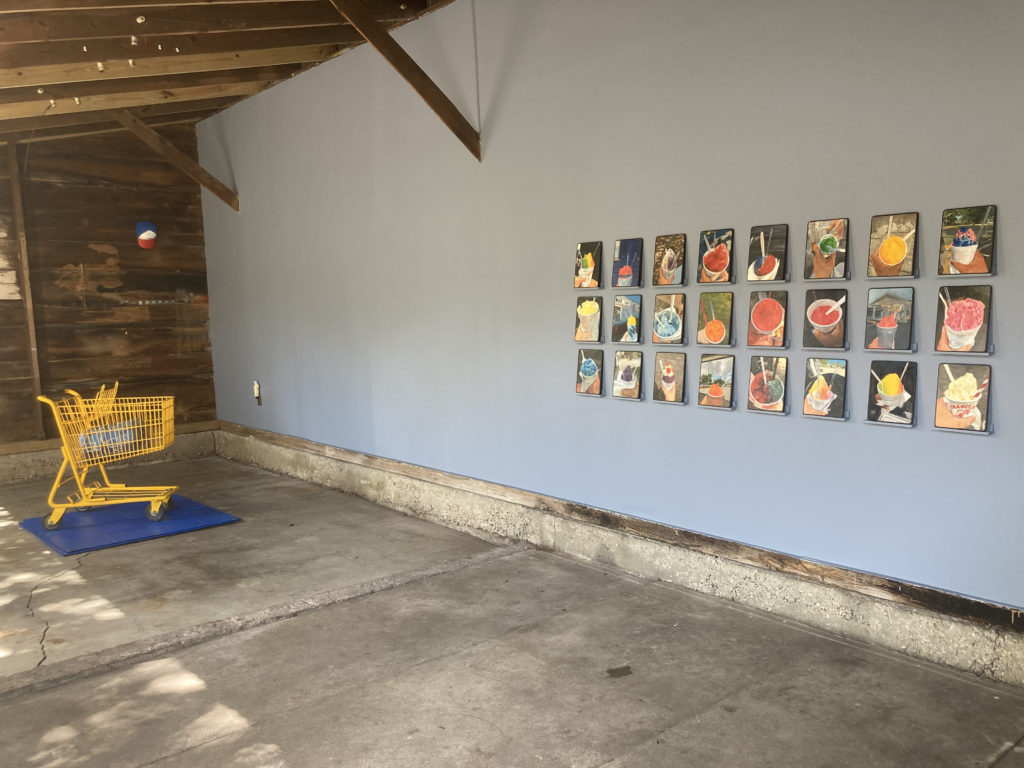 SHED's physical space was a covered structure, long and open on one side in a back yard surrounded by greenery under a massive oak tree. The long gallery wall, drywall that changed color for each installation, was flanked by two more raw walls, horizontal slates of weathered lumber and bargeboard. The one traditional gallery wall, the careful curation and the sophisticated lighting effectively stood in contrast to the leaves on the ground, the weather entering the gallery. The final show spilled into the yard and up the driveway. There was a piece on the deck and a video playing on a TV hung mounted on the house at ground level. There was an installation in a space that was an actual shed, a small storage space with the door propped open.
The final show at SHED on Poland Avenue was titled "Good Dog/Bad Dog." Gabrielle called it a birthday present for her husband, Jon. "A lot of the gifts I've given him are dog-based," Gabrielle said. (She told me this includes a William Wegman photograph.) Much of the work in the show was clearly about dogs, usually a certain dog. In other work the tie-in was more elusive. One work was Blake Cook's "You've Changed," a taxidermized dog, set up in the small, cluttered the shed next to the gallery. This piece – the quiet of it, the life and death of it, the obvious personal nature of it – was haunting.
For its first post-space project, this month SHED imprint produced a portable exhibition, a "pocket art show" by Jorge Lucero in the form of a book. The book contains a list of three ways to experience the photographs in the exhibition: leave them in the book, rip the pages from the book and install in a space, or use two books and display all the two-sided images at once.
SHED's shift from a physical space to an ethereal one is worth thinking about. And SHED will again take physical form elsewhere. I appreciate the convention of the traditional art gallery; I have also, questioned it. Like a frame on a painting, it can contain, or it can burden. It can provide a context which can be good or not good for the work. Life in the pandemic illuminated other possibilities for experiencing art. The idea that an art space can exist in a domestic space or half outdoors is not new. Private-public home-based art spaces allow us to examine the way art enters our lives, our spaces and our consciousness. The idea that an art space can be a shifting, sometimes non-physical space is timely. I'm glad SHED is one of the entities kicking that can further down the road.