As 2021 comes to an end, I have been reading lists, Jerry Saltz's The Best New York Art Shows of 2021 in Vulture and Hyperallergic's The Best of 2021: Our Top 10 United States Art Shows to name a couple, and they gave me a little retro-FOMO. I wish I had seen more art, travelled more, as always. I made a list of my own memorable encounters with art (beyond those I have already written about here.) Not so much a best-of list, my list is an argument for taking art personally and how, in many forms, it comes to meet you where you are. 
1. Hugh Hayden Lisson Gallery, NYC
This show titled "Huey," reminded me of how objects hold meaning and memory, both personal and collective. An artist's intervention, tweaking an object, can question and shift these meanings as Hugh Hayden did in this work.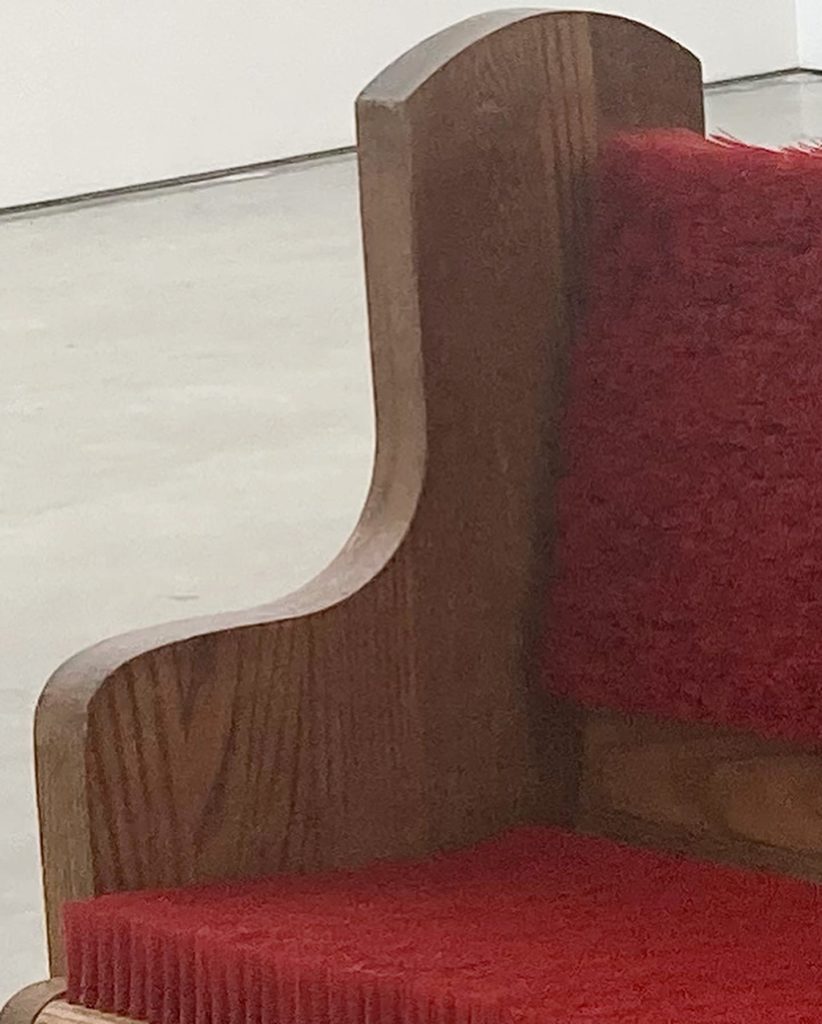 2. Video By Piterville Productions (music by Slava Marlow)
Half of the Instagram view count may be mine and last spring I listened to this song Снова я напиваюсь (translation, I'm Getting Drunk Again) almost every day on the way to work. If you send a package into outer space to show the aliens who we are, please include this video.
3. The Kids Are Alright
I have been teaching painting from observation to a six-year-old, the daughter of a friend, and this little girl is teaching me how to work without an inner critic. She just goes for it every time. Also, I live with an 11 year old who regularly makes absurdist interventions throughout the house: a potholder inside a potholder, washcloths water-stuck to the shower wall. This can be annoying and then I remember Joseph Beuys and that art is not decoration. I don't make a habit of sentimentalizing children or their artwork, however, children can remind us to make art without an agenda—in other words, to be free.
4. Laurie Anderson at The Hirshhorn, Washington D.C.
Laurie Anderson's "The Weather" was a massive show by a massive artist. The whole thing was fantastic but one piece continues to haunt me. The piece titled Habeas Corpus was first shown in New York in 2015. In a large, darkened gallery, a 35-minute video of a man seated in a chair is projected onto a foam sculpture creating the illusion of a giant glowing figure. A disco ball hangs from the ceiling sending jittering star-like lights around the room. The man in the video is Mohammed el Gharani who after 9/11 was arrested at age fourteen, held for seven years at and Guant​​​​​ánamo, and finally freed in 2009. Toward the end of the video, he tells a story about a man he knew and admired in Guantánamo, "You know, the sad thing is Chakir is still there…Fourteen years." Mohammed el Gharani falls silent, bends to put his face in his hands and weeps. Laurie Anderson is often the central character in her work, but for this piece she used her enormous talents then stepped aside. This piece haunts me.
5. Štěpán Čížek
If there is something that connects all of Štěpán Čížek's work, it is the proposition that everything ordinary, everything that surrounds us in real and digital space, is strange and worthy of attention.
6. Antoine Vollon, Mound of Butter (and a long-term relationship with art)
This painting knocked me out when I first saw it a few years ago. Fast-forward to November of this year when I practically bum-rushed the attendee at the information desk at The National Gallery in Washington D.C asking, "Where's the butter!?" Finally standing in front of the painting, I felt little of the original magic. Is it just me or do those eggs look a little unconvincing? The thing that interested me was how the painting had not changed, but I had changed. The chemistry between us had changed and maybe I will return again in the future and feel that original spark. It's a long term relationship with painting, with art. Even the let-downs are interesting.
7. Loose Leaf Paper
(and spiral and legal) Analog nostalgia, the pleasure of physical contact, the poetics of ink or graphite smudge–praise these under-exalted surfaces, the mix-tapes of office products.
8. Goofy Old Paintings
Whatever museum is closest to where you live, I bet you can find goofy old paintings in there. The assumption is that museums are filled with great works of art and tradition dictates that in museums we whisper and our posture is reverent. Let's be honest, some artwork in there is just crazy-looking. That's not a bad thing. After a couple of hours of art worship, one goofy painting at The National Gallery in D.C. made me laugh out loud. The guard turned to me and I said, "It's just really funny." And by the way, a lot of early American portraits are really off the hook, taking themselves so seriously.
9. Tavares Strachan, The Problem of One Thing Existing Simultaneously, Pierogi Gallery, NYC
Seeing this at Pierogi last summer immediately triggered the sensation of wonder. What? How?!? But this piece is more than a magic trick. It suggests an existential problem. It reminded me of one of my favorite lines from a prose poem titled The Blue House by Tomas Trasntr​ömer: "We don't really know it, but we sense it: there is a sister ship to our life which takes a totally different route."
10. Video Posted by the Artist Pelayo Ortega
This video was posted by artist Pelayo Ortega on Instagram and features his art in the background. Not intended as an artwork itself, I found the video perfect, containing everything: the mask on the proprietor-piano player, the restaurant's yellow walls, the artwork, and the man at the table, a regular I presume, playing air-piano along with that final trill, knowing how the song will end.
Happy end of 2021. Wishing you many perfect quotidian moments and great works of art in the upcoming year.