"Nationhood" represents the new martyrdom of women to the state or literally into the lion's mouth of the Patriarchy. It sacrifices the freedom and liberty of women for the power of the Country, as her head enters into the belly of the beast. The blood of the female is the sacrifice to the dogmatic regime.
This collage represents a trinity of female archetype. The maiden/innocence, the temptress/seductress, and the queen/mother. In a patriarchal society these archetypes are distorted, oppressed and objectified for the gratification of the male, who only allows the woman to possess one part of the herself, when in fact she is all of them.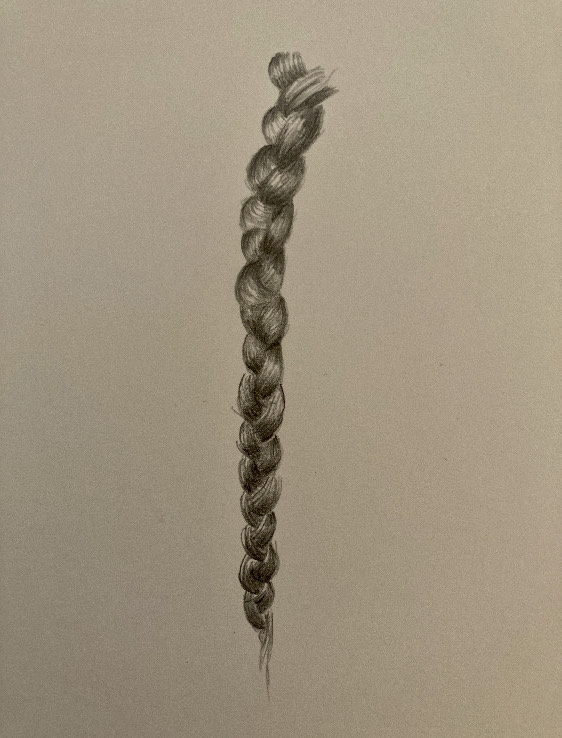 The severed braid holds several meanings:
In pre-Islamic history along the Caucus, Mediterranean and North Africa, it was seen as inappropriate for women to wear their hair loose and the braid was one of the first seen cultural limitations placed on women's bodies. It references hierarchy amongst women and the power of hair to be tied and tamed, just like the head to which it is attached.
The Unicorn references the virgin, innocence and magic. The Christian church appropriated the mythical beast as a stand in for Christ, claiming that only the virgin girl could attract the Unicorn. So here we have a re-appropriation of the mythical animal as the innocence, power and beauty of the female.
---
Sabrina Mansouri (she/her) was born in Maryland and raised in Tehran by her grandmother until the revolution of 1979. She has attended New York University, the School of Visual Arts and received the Ellen B. Stoekel Fellowship from Yale. Her work has been exhibited in group shows in NYC, and she has had a solo show in Phoenix, AZ. She currently lives and works in the Sonoran Desert.